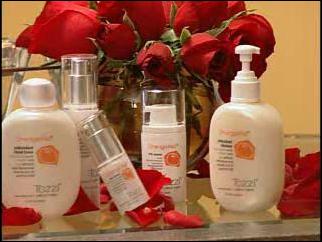 West Palm Beach, FL (PRWEB) December 28, 2006
Everyone, men and women alike, would appreciate the magic of having their own personal prescription for beauty right at their fingertips whenever they needed it. Donna Tozzi, a pioneer in aesthetic medicine, has waved her magic wand to make such dreams come true.
Presenting the most innovative medical grade skin care products available online! The Tozzi line is said to provide an experience like no other. Researched and tested by Donna Tozzi herself, each product contains a high level skin care formula that helps to prevent and reverse the effects of aging. The new website creates an opportunity for individuals to experience the cutting edge personalized cosmetic services of the renowned Tozzi Institute of Aesthetic Medicine, conveniently from their home.
Donna Tozzi, Expert and Pioneer
Donna Tozzi, B.S.N, R.N. is respected all over the world for her innovative work in aesthetic medicine. She is dedicated to providing people with their own personalized prescription for beauty. Beauty is her passion. It was this passion that led to the creation of both the Tozzi Institute and the Tozzi skin care line.
The Tozzi Institute of Aesthetic Medicine and Skincare is held in high regard for being one of the most elite health care and aesthetician training institutes in the nation. It is located in West Palm Beach, Florida, and was recently selected as INAMED Aesthetics Corporation's East Coast Training Facility. Donna personally trains attendees in revolutionary cosmetic treatments and procedures, and serves as INAMED's exclusive dermal filler injectibles educator. She has also assisted many renowned plastic surgeons and specialists including Sherrell Aston, M.D., New York based celebrity plastic surgeon, and Ron Shelton, M.D., who is head of the New York Aesthetic Center in Manhattan.
The Tozzi Line
The innovative Tozzi line of products are custom tailored to treat a wide range of skin conditions such as acne, as well as care for anti-aging and plastic surgery needs. The medical grade products contain special properties that provide exemplary care for the face, neck, hands, and decollete.
All Tozzi products have been formulated with the most recent breakthroughs in skin care science. Not only do these products help men an women of all ages achieve a healthier appearance, they are also equipped to prepare skin for a variety of cosmetic procedures, and enhance the quality of results thereafter.
A Personal Prescription for Beauty
By visiting http://www.tozzi.biz, one may begin the process of feeling the Tozzi experience with their own personalized beauty regimen. Each client receives a beauty prescription created from an individualized, detailed skin analysis by a certified aesthetician. He web site educates on:
Anti-Aging Research Anti-Aging Product and Supplements
Donna Tozzi has extended a personal invitation to beautiful skin. Her promise is that all of the Tozzi products are specially formulated to provide skin with the special treatment it deserves. She seeks to help women and men of all ages achieve their personal skin care goals.
According to the Tozzi® philosophy, it isn't one's skin that should reveal their age.
For more information about the Tozzi Line of skin care products visit http://www.tozzi.biz.
About Tozzi.biz
Donna Tozzi, B.S.N., R.N., is the founder of the Tozzi Institute of Aesthetic Medicine and the creator of Tozzi® Skin Care and Supplements. With more than 12 years of experience as a cosmetic nurse in this exacting industry, she is highly knowledgeable in the latest techniques and best practices. Patients of the Tozzi Institute benefit not only from Donna's specialized cosmetic treatments and procedures, but also from the enhancing effects of her skin care and supplement lines.
Donna has assisted some of the world's most renowned specialists, including famed plastic surgeon Sherrell Aston, M.D., who caters to a celebrity base clientele on Park Avenue in NYC; acclaimed plastic surgeon Robert Cooper M.D., prominent cosmetic dermatologist; Ron Shelton, M.D., head of the New York Aesthetic Center in Manhattan; the prestigious Guylaine Lanctot Vein Cliniques; and Aesthetic Doctore in Milano, Italy. Donna is now bringing the new advances of the Tozzi® line to the United Kingdom.
Donna's passion for beautiful skin and her uncompromising commitment to high-quality skin care led to the development of Tozzi®, a line of medical-grade products unsurpassed in the industry. Donna is thrilled to be able to share her amazing beauty prescription with you.
Web marketing provided by: Dallas Web Design company (http://www.itwebwerks.com)
# # #