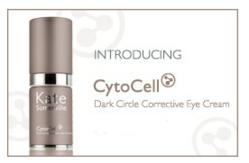 We have taken our exclusive stem cell technology and created CytoCell Dark Circle Corrective Eye Cream, which actually 'wakes up' the skin's own stem cells, jumpstarting cell production to treat all signs of aging in that area of concern
Los Angeles, CA (Vocus/PRWEB) March 18, 2011
Kate Somerville's anti-aging skincare line now offers the ultimate in eye treatments, CytoCell Dark Circle Corrective Eye Cream. Containing a revolutionary peptide, P-199, moisturizers, and brighteners to restore firmness and diminish the appearance of fine lines and wrinkles.
Peptide P-199 stimulates collagen production to add elasticity to the skin resulting in a renewed, younger and more radiant appearance. Eyeseryl helps treat under eye puffiness and dark circles, light diffusing pearls improve the appearance of dark circles, Vitamin C brightens and acts as an antioxidant and milk peptides hydrate and smooth the skin.
"I am very excited about our new eye cream-it is really revolutionary in the world of skincare and ahead of its time," said Kate Somerville. "We have taken our exclusive stem cell technology and created CytoCell Dark Circle Corrective Eye Cream, which actually 'wakes up' the skin's own stem cells, jumpstarting cell production to treat all signs of aging in that area of concern."
For a limited time, receive a full size Quench Hydrating Mask with any $75 purchase (Value $45). *Enter code KSMarch11 at check out. Ends 3/31/11.
CommuniKate with Kate
Twitter: @katesomerville
Facebook.com/KateSomerville
YouTube.com/KateSomervilleSkin
About Kate Somerville
Kate Somerville is a widely respected paramedical esthetician with over 18 years experience in clinical skincare. She is the founder of Kate Somerville Skin Care and has a flourishing medi-skin clinic in Los Angeles. People Magazine coined Kate the "A-list Beauty Guru," while Allure called her "Hollywood's Hottest Facialist."
Kate's personal and professional experience served as her guiding principal when she developed her unique Skin Health Pyramid ™, a simple and strategic guide to achieving healthy, radiant skin. Kate Somerville's skincare is distributed in leading retailers, luxury spas, and doctors' offices, both domestically and abroad including Neiman Marcus, Nordstrom, Sephora and http://www.katesomerville.com. Kate appears regularly on QVC.
"I believe everyone deserves to have beautiful skin, and it's my promise to guide you there."

For information on how to order Kate Somerville products, please http://www.katesomerville.com or call 1-800-984-5283.
For press inquires, please contact Rena Reisdorf of Tina Thomson Communications at rena(at)tinathomson(dot)com or 646.792.1600
*Offer valid through 3/31/11, 11:59pm PT. Not valid with any other offers or promotions. Quantities are limited. Available only while supplies last.
###