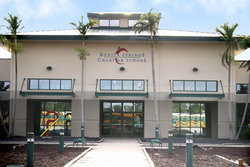 I think there is a combination of the students helping each other and a better understanding of the definition of bullying that is helping to decrease those numbers
Bonita Springs, Fla. (Vocus) December 8, 2009
It happens every day, in every classroom, in every city, in every country in the entire world. Bullying. Although it's not a new concept, bullying has taken on an alarming level of seriousness that can lead to devastating outcomes. In today's world, bully targets are just as apt to take their own life as someone else's as a result of bullying. Few understand this better than the mother of teen Jeffrey Johnston who successfully lobbied for the Jeffrey Johnston Stand Up For All Students Act, which mandates schools enact anti-bullying policies and programs to help protect students from bullying. Johnston took his own life after being cyber-bullied. A program at Bonita Springs Charter School is taking the challenge to eliminate bullying just as seriously – one student at a time.
Jeff's Law, which it is commonly called, goes hand-in-hand with a curriculum-based character education program adopted last year by Charter Schools USA (CSUSA) called STRIVE. STRIVE is a program created by the Clarion Council that is being implemented as a pilot program with all CSUSA schools. STRIVE 65 is a list of traits that help build moral and performance character as well as encourage active citizenship. STRIVE 65's #18 reminds students to "Help the person others are bullying or being mean to."
This STRIVE trait is the foundation of a program developed by Robert Barnes, the guidance counselor at Bonita Springs Charter School. His program called "What if" uses trait #18 as its basis. The concept asks, "What if you could change the world and be the one person who saves a student from making a life altering decision."
"Each year we survey the students in our middle school to find out what they believe should be the focus of our bullying program," says Barnes. "This year, the overwhelming response was to address cyber-bullying and sexting. We're now focusing on those two bullying behaviors and have been working on the elimination of these demeaning practices from the lives of middle-schoolers."
Cyber-bullying occurs when a child is targeted, harassed, humiliated or embarrassed by someone using interactive or digital technologies or cell phones. Sexting is the act of sending sexually explicit messages or photos electronically, primarily through cell phones. Both forms of bullying can have very damaging effects on children.
The "What if?" program empowers students to use the time they have in school to help build the self esteem of others. It suggests that students identify those students who are the target of bullies and make an effort to be kind to them – even if it means just using their name when addressing them in the hall, making eye contact with them and smiling or sitting with them at lunch. According to Barnes, since it takes two people to engage in a bullying situation – the target and the bully – it's easier to take the target out of the equation.
"Bullies want power," says Barnes. "Their efforts are only effective if the victim is offended or hurt by their words. Bullies target those with low self esteem who will believe their taunts. So if the rest of the students help build their peers' self esteem, the bullies have fewer and fewer targets."
The program seems to be working well. Last year, prior to the advent of this program, Barnes received four to five bully reports per week. So far this year, there has been only one complaint that needed to be resolved by disciplinary action and one other that was resolved by the students in a peaceful manner. He is greatly encouraged by the dramatic decline in referrals.
"I think there is a combination of the students helping each other and a better understanding of the definition of bullying that is helping to decrease those numbers," adds Barnes. "It's so gratifying to see students looking out for each other. No one wants to be bullied and everyone can relate to being a target. Giving these students the tools they need to help stop this trend empowers them to truly believe they can change the world."
Bonita Springs Charter School is part of the Charter Schools USA Inc. (CSUSA) family of schools. CSUSA is one of the nation's leading charter school management companies, serving kindergarten through 12th grade. CSUSA provides comprehensive management services to corporations, government entities and non-profit organizations. CSUSA schools are individually developed to meet the unique needs and requirements of the community. CSUSA educational advantages include integrated technology, parental involvement contracts, student uniforms, enforced discipline policies, highly qualified and motivated staff, community focus and high academic performance.
Enrollment for Bonita Springs Charter School is underway; interested parents can register their child online at http://www.bonitaspringscharter.org. For additional information, contact Charter Schools USA at 1-866-KIDSUSA or visit the corporate Web site at http://www.charterschoolsusa.com .
Media Contacts:
Deborah Tracy – Bonita Springs Charter School Principal or
Robert Barnes – Bonita Spring Charter School Guidance Counselor
Ofc: 239- 992-6932
Colleen Reynolds, APR, president and owner of Edge Communications
Ofc: 239-437-0040; Cell: 239-849-6400; Fax: 239-437-0170
# # #