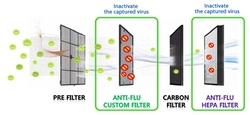 Using an air purifier with an anti-viral solution coated filter to prevent the flu virus is especially beneficial in the winter
Los Angeles, CA (PRWEB) October 29, 2009
Coway 's new anti-flu air filter was recently tested for inactivating the flu virus by Dr. Sangheui Seo, a professor at Chungam National University in South Korea. Dr. Seo was given authorization to obtain and research the virus and vaccine from the U.S. Centers for Disease Control and Prevention (CDC), an officially collaborated institute of the World Health Organization (WHO).
Dr. Sao and his research team tested the response by compounding the anti-viral solution and virus in the same ratio and found 100% inactivation of the virus. They found that Coway's anti-flu air filter coated with the anti-viral solution inactivates 99.99% of the virus. They also compared the removal rate of the virus on two different filters - a Coway anti-viral solution-treated filter and an untreated filter (with a size of 1.18 inches by 1.18 inches). The results revealed a 99.99% virus removal rate from the anti-viral solution treated filter.
Coway's anti-viral solution, made from the extract of leaves from ginkgo trees and Japanese sumac trees, includes an exclusive element to inactivate the flu virus. According to the company, the compounded natural sterilizing substance from ginkgo and sumac extracts absorbs and destroys protein on the surface of the virus, so that the virus is finally eradicated.
Dr. Seo warns that the flu virus spreads more easily among people during the winter because the virus reacts sensitively to the winter temperatures and humidity and lasts for 12 to 24 hours in the common indoor environment. Air quality professionals suggest using air purifiers to get fresh air and prevent polluted air containing the flu virus. The Coway anti-flu air filter provides fresh air circulation every 20 minutes and can help inactivate the flu virus. Coway USA also launched YouTube video demonstration at http://www.coway-usa.com/technology/02_AirPurifier01.html to explain in details.
"Using an air purifier with an anti-viral solution coated filter to prevent the flu virus is especially beneficial in the winter," said Hongrae Gim, CEO of Coway USA. "Some customers may choose to have an air purifier instead of receiving vaccinations, to avoid the fear of possible side effects of flu vaccines."
For more information about Coway's new anti-flu air filter , visit http://www.coway-usa.com.
# # #