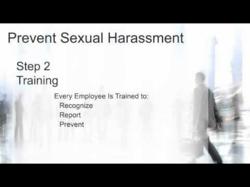 Providing anti-harassment training to employees is an important step in creating a defensive strategy in the event of a harassment lawsuit
Lafayette, CO (PRWEB) January 31, 2012
Preliminary figures from the Equal Employment Opportunity Commission, as reported by The New York Times, show complaints of harassment totaled 8,341 in the 2011 fiscal year. To help dealerships with the persistent problem of harassment in the workplace, KPA has released a new online training course that teaches employees how to:
1. Define and Identify Harassment
2. Report Harassment
3. Prevent Harassment
4. Impact of Harassment at Work
The online anti-harassment training course is designed to support an organization's commitment to a harassment-free work environment. The course can be customized with specific instructions on reporting harassment in accordance with company policy. Using interactive scenarios and real-world situations, the course emphasizes the serious impact of harassment in the workplace. The course provides examples of situations that an employee might not consider harassment but that would be considered harassment under the law. Furthermore, the course provides information on sexual and non-sexual harassment.
Kathryn Carlson, KPA's Director of HR Management Products, comments, "many companies may have an anti-harassment policy in place. Without the proper training however, employees may not be aware of exactly what is considered harassing behavior, how to prevent the behavior, and how to report harassment. Online training provides an interactive experience that reinforces what is acceptable behavior and what is not acceptable behavior. At the same time, the online training stresses the consequences of unacceptable behavior in the workplace". Kathryn further notes that "providing this type of training to employees is an important step in creating a defensive strategy in the event of a harassment lawsuit".
The new anti-harassment course is designed specifically for non-supervisory employees and is available through KPA's HR Management program. The HR Management program sends alerts to employees and managers when training is required, provides online access to HR compliance training and tracks completion of assigned courses. In addition to the new anti-harassment training, KPA's HR compliance training includes the following courses:

Anti-harassment training for supervisors and managers
California AB 1825 compliant sexual harassment training
Customer Information Security (CIS)
Red Flag Rule Compliance
IRS 8300 and Cash Reporting
Interviewing Skills
Performance Appraisals
Disciplinary Actions
How to Create Pay Plans
About KPA
KPA is a dealer services and Internet marketing provider for over 4,000 automotive, truck, and equipment dealerships and service companies. KPA provides consulting services and software for three industry-specific product lines: Environment & Safety, HR Management, and Internet Marketing. For more information, visit http://www.kpaonline.com.
###