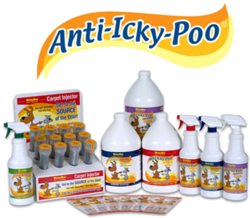 Switching our ecommerce solution to Island Cart was the best decision for our business
Los Angeles, CA (PRWEB) April 09, 2013
VetScape, LLC, one of the world's largest distributors of Anti-Icky-Poo cleaning products for pet owners, today announced that it has selected Island Technologies' Island Cart managed ecommerce solution to provide shopping cart functionality for its newly redesigned retail website, antiickypoo.com. Via the integrated Island Cart system, pet owners can purchase a range of products to help maintain their households, including Anti-Icky-Poo cat and dog urine remover and Feliway territory-marking deterrent spray, as well as helpful accessories such as urine-detecting ultraviolet lamps and cleaning solution carpet injection syringes.
Through its extensive contacts in the international pet community, VetScape, LLC also operates as the exclusive distributor of Anti-Icky-Poo and related products to wholesale customers in South America and Europe, with additional regions coming online shortly. Happily, with the Island Cart Solution, very little time is necessary to monitor and tweak VetScape's online presence. For more information, contact VetScape, LLC at 866-247-5221.
The Island Cart managed ecommerce solution provides online resellers with a robust feature set, including seamless scalability, comprehensive reporting tools and SEO optimization, all without the overhead of other shopping cart systems.
"Having chosen Island Cart as their ecommerce solution, Anti-Icky-Poo is now reaping the benefits of an advanced shopping cart system, without having to concern themselves with security issues, version upgrades or downtime," said Patrick Coffin, CEO for Island Technologies. "Island Technologies hosts Island Cart on our own private servers, allowing us to provide 99.999% uptime and to perform platform upgrades transparently."
"Switching our ecommerce solution to Island Cart was the best decision for our business," said Richard Bultman, CEO of VetScape, LLC. "It came fully configured with all the modules we needed, so it's never been easier for us to produce detailed store reports. And because Island Cart is a managed service, as new features and modules are added to the platform, we'll be able to take advantage of them immediately, without lifting a finger. We are very happy with the results so far, and we look forward to using the time we've gained from the increased functionality of the Cart system to concentrate on expanding our international business."
About Island Technologies
Island Technologies is a full-service IT consultancy and a leading provider of software and services for Internet-based commerce and logistics. The Island Cart managed ecommerce solution gives online retailers access to a state-of-the-art shopping cart system as a secure managed service, which allows them to deliver a high-quality online shopping experience without the maintenance and security demands of a traditional ecommerce solution. Island Technologies is located in Los Angeles, California.
# # #
Island Technologies is a DBA of Coffin, Inc.