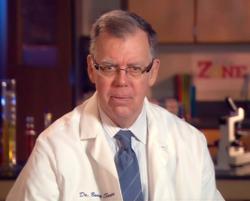 While excess omega-6 fatty acids in the diet promote inflammation, omega-3 fatty acids found in fish and fish oil can reduce that inflammation
New York, NY (PRWEB) June 13, 2011
"The underlying cause of the obesity crisis that is expanding waistlines and health-care costs in America is far more complex than we are led to believe," said Dr. Barry Sears, bestselling author of the New York Times #1 best-seller "The Zone" and creator of the Zone Diet.
In an Experience Life Magazine article entitled "Tame Your Sweet Tooth," Dr. Sears advised readers that the underlying cause of obesity is not lack of willpower, but increased cellular inflammation generated by a deadly combination of refined carbohydrates with high levels of omega-6 fatty acids. When these two food ingredients are combined in the diet, they lead to the increased formation of a new fatty acid called arachidonic acid.
Dr. Sears said, "It is arachidonic acid that causes the cellular inflammation that leads to a 'fat trap' that essentially locks incoming calories that have been metabolically converted into fat in the fat cells and prevents their release to be converted into the necessary chemical energy required for metabolism and movement. The result is increased appetite and eventual overconsumption of calories to generate enough energy for daily activities."
"High levels of refined carbohydrates in the diet activate the enzymes that convert the omega-6 fatty acids found in common vegetable oils, such as soy, corn and safflower oil, into arachidonic acid, the building block that generates cellular inflammation," he said.
Founder of http://www.ZoneDiet.com, Dr. Sears said, "A diet rich in refined carbohydrates and omega-6 fats is like adding a lighted match to a barrel of gasoline when it comes to increasing cellular inflammation. Americans have been doing this for 40 years with a corresponding worsening of general health in America."
Dr. Sears added that omega-6 fatty acids are the most inexpensive form of calories known and represent an integral part of the all processed foods. The intake of omega-6 fatty acids has dramatically increased since 1970. "While excess omega-6 fatty acids in the diet promote inflammation, omega-3 fatty acids found in fish and fish oil can reduce that inflammation," he said. "Maintaining an appropriate balance of arachidonic acid to omega-3 fatty acids in the blood becomes the key to reducing cellular inflammation and thus relaxing a diet-generated 'fat trap'," said Dr. Sears.
Available at newsstands, Experience Life is an award-winning national magazine focused on health and fitness. Published 10 times a year, its articles inform readers about fitness, nutrition, health, mental well being, balancing lifestyle, training and active adventures. It is published by Life Time Fitness, Inc. The article quoting Dr. Sears is in the May issue of Experience Life Magazine and online at http://tinyurl.com/3h9y8eq.
Dr. Sears has been instrumental in changing our understanding of food. His first book, "The Zone," was the first to link diet to hormonal disturbances that lead to the accelerated development of chronic disease. His book "The OmegaRx Zone" started the popularity of omega-3 nearly a decade ago. His most recent book, "Toxic Fat," describes how our obesity epidemic is really caused by an increase in cellular inflammation fueled by increasing levels of arachidonic acid (i.e., toxic fat) in our diet.
Dr. Sears is a recognized research scientist, expert on obesity and a leading authority in anti-inflammatory nutrition. He is the creator of the anti-inflammatory Zone Diet and the author of 12 books, including the New York Times' #1 bestseller "The Zone." His books have sold more than five million copies and have been translated into 22 languages. Dr. Sears is also the founder of Zone Labs, a life sciences company that manufacturers and markets a wide variety of products to reduce cellular inflammation. Media contact is Brian Dobson at DobsonPR.com or bd (at) dobsonpr (dot) com.
###