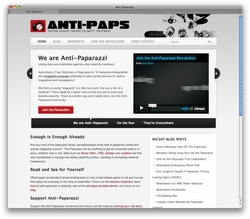 Park City, Utah (PRWEB) March 9, 2010
A campaign to combat the invasion of privacy and combative behavior of paparazzi has begun. The website, anti-paparazzi.org seeks to create a meaningful alliance between celebrities and fans, uniting in common cause against Paparazzi-fueled abuses.
Anti-paparazzi.org contains a manifesto from celebrities asking for support from fans, members of the media, and other celebrities to not support these activities.
The current campaign sponsor and President of fan driven site, Ifollo.com, Colin House, said, "Nobody can feel good about themselves when you see a camera shoved in the face of another person. Of course we like to hear about our favorite celebrity, but not at the cost of an invasion of privacy"
The Anti-Paps website's blog will document cases of the Paparazzi going too far, including individual witness accounts of Paparazzi stalker behavior, submitted by readers. Anti-paparazzi.org will use multiple social media channels such as Twitter and Facebook to send updates, and unite fans of celebrities.
Some Recent and famous examples of invaded privacy:

Reese Witherspoon: A Paparazzo assaults employees at Disneyland to get a picture
Scarlett Johansson: Pursued by Paparazzi for 45 minutes, her car finally hits another
Nicole Richie: Chased by a Paparazzo, rear-ended in her car and taken to the hospital
Nicole Kidman: A Paparazzo determined to "wreak havoc" on her private life, reduces Nicole to tears after years of stalking
Princess Diana: A coroner's jury rules her death caused by a reckless driver and pursuing Paparazzi
About the Current Sponsor
iFollo, LLC, is an interactive, online, fan-based community that enables people to share personal celebrity experiences, photos and video. Ratings and user-generated content ensure that iFollo remains grounded in its roots of real people telling the real story rather than sensationalized content from Paparazzi. Responsible celebrities embrace iFollo's unique content with less gossip, fewer scandals and less hype. iFollo is headquartered in Park City, Utah. For more information, please visit ifollo.com.
For More Information Please Contact:
anti-paparazzi.org
Email: Benjamin(at)iFollo(dot)com
###