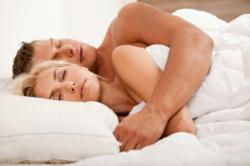 A special Internet-only price is now offered to those that are searching for a way to correct sleep issues
Midland, Texas (PRWEB) December 09, 2012
SnorelessPillow.com has introduced its newest product to help men and women that are suffering from interrupted sleep caused by a partner that snores. This new ergonomically designed anti-snoring pillow allows the airway to open to reduce or eliminate the snoring that can take place with airway obstruction. A special Internet-only price is now offered to those that are searching for a way to correct sleep issues without seeking medical treatment or surgery.
Men and women that experience sleep issues could find that the cause is one of many factors. Obesity, sleep apnea, acid reflux and other issues have all been medically linked to sleeping disorders. Medical treatments exist that can include long-term studies to help define the actual problem that someone has with restless sleep.
The Snoreless Pillow has been created and launched to help provide a non-medical alternative that average people can use as one solution to help get uninterrupted sleep during naps or REM stages.
Medical studies have published reports that detail how a person sleeps could affect the amount of rest gained. Men or women that sleep on their back could increase the potential to snore compared with those that sleep on their side. The new anti-snoring pillow design has been created to provide comfort in any sleeping position. Full support for the head and neck are offered as well as a raised design to help keep the airway open at night.
A side effect that people who do not rest well during the day or nighttime report is fatigue. The breakup in the many stages of sleeping that each person goes through in a relaxed state can contribute to feeling tired, irritable and mentally confused according to research.
The creation of this new pillow offers its breakthrough design that provides an alternative to dental prescribed mouth guards or warm air treatments that some doctors can prescribe.
The new snoreless design is guaranteed by the manufacturer for a full seven years after purchase. This guarantee includes the external and internal design that helps to provide the relief that sleepers expect. Since these pillows can be obtained without a prescription, no medical review or assessment from a doctor is required before usage can begin. The launch and Internet-only sale of this sleep aid is expected to help men and women in all parts of the world.
About SnorelessPillow.com Company
The SnorelessPillow.com Company launched its website in 2009 and has helped to provide immediate relief to men and women around the world with new and innovative products. The 2012 launch of the anti-snoring pillow is one that is expected to help boost the shipments for this company worldwide. Through product development and research, the SnorelessPillow.com Company helps to offer some of the best sleep aids that are currently available. The uninterrupted sleeping products distributed by this company are not yet sold in retail stores.