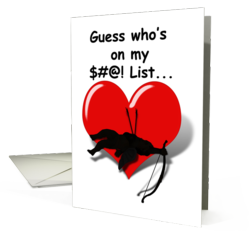 Vinegar Valentines focus more on personal Anti-Valentine's Day messages like heartbreak, a romance gone sour, a woman scorned or give a cynical view of the romantic holiday
San Francisco, CA (PRWEB) February 07, 2013
Greeting Card Universe, the world's largest greeting card store, announces its popular collection of 110 original and uncommon Anti-Valentine's Day cards.
"Valentine's Day is one of our most popular holidays," says Mindy Rosso-Gaemi, Community Manager at Greeting Card Universe. "To mark the occasion, a billion cards are exchanged in the United States alone, and over 180 million roses and 35 million boxes of chocolates are given each year. Yet despite the celebration of romance and love in all its forms, some people wish Cupid would take a hike. For them, vinegar valentines are the way to go."
Commercial Valentine's Day cards were available in the nineteenth century, when lovers began to embrace the sentimental side of the holiday. Almost immediately, "vinegar valentines" were offered as an alternative with blunt, often insulting, and sometimes cruel ways of pointing out the recipient's faults and failings. In fact, the more derogatory postcards might be confiscated by the local postmaster and go undelivered.
"Modern vinegar valentines aren't necessarily as unkind as they were in the previous century and their purpose has changed," says Rosso-Gaemi. "These greetings focus more on personal Anti-Valentine's Day messages for occasions like heartbreak or a romance gone sour, a woman scorned or give a cynical view of the romantic holiday or simply look at the bright and humorous side of being single on Valentine's Day."
Ordering from Greeting Card Universe's collection is easy and convenient.
"Once shoppers discover the variety of Anti-Valentine's Day cards we offer, they'll never shop anywhere else," says Rosso-Gaemi. "Our talented artists have created clever and humorous designs for those feeling let down by love."
Additionally custom greeting cards can be created within 48 hours at no additional cost by requesting changes or a totally new design from a community of more than 5,700 freelance artists from around the world. Shoppers can also personalize the inside of all cards at Greeting Card Universe with their own text and photo. An added convenience for last minute shoppers, cards can be ordered online and picked up – usually within 1 hour – from most Target stores across the country.
Greeting Card Universe's traditional and niche offerings of over 580,000 cards gives nod to the importance of choice and personalization in today's marketplace and stays true to its tagline "any card imaginable" hitting the sweet spot of just about every shopper, or perhaps the sour spot for some on this Valentine's Day.
About Greeting Card Universe
Greeting Card Universe (http://www.greetingcarduniverse.com) is a division of BigDates Solutions, a private company that provides consumers with unique, personalized services for any holiday or occasion. Greeting Card Universe is the world's largest paper greeting card store, offering an unlimited selection of custom greeting cards, birthday greeting cards, photo cards, invitations, and note cards. BigDates Solutions is the leading provider of Online Reminder Service Solutions, powering gift-reminder services, including 1800Flowers.com and FTD.com. The company is also the owner of Birthday Calendar, a Facebook application with over 43 million installs. Explore more uncommon holidays and occasions on the Greeting Card Universe BLOG. Mindy Rosso is available for guest BLOGs, Radio and TV invterviews on this topic and other uncommon occasions and holidays.