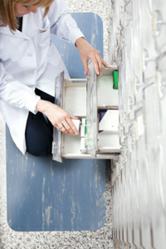 As the switch to our Cushion-Step anti-fatigue mats took place, Kaiser relayed positive comments from their grateful staff
Cleveland, OH (PRWEB) September 07, 2011
Martinson-Nicholls new Cushion-Step Anti-Fatigue Matting proved to be the perfect prescription for Kaiser Hospital pharmacies. Seeking a solution for leg and back fatigue for staff that spend most of their day standing, Kaiser contacted Martinson-Nicholls for an anti-fatigue option that would provide relief.
In surveying the facilities, Martinson-Nicholls found that the current mats being used were only 3/8" thick, and many lost their anti-fatigue qualities quickly from constant use. It was obvious to me that a half-inch thick mat made from a combination of foam, rubber top, and bevel on all sides would provide long-term relief," stated Dan Ruminski, the company's president. "The beveled edge of the Cushion-Step mats also met Kaiser's requirement that chairs and stools could be easily rolled onto the mats."
Martinson-Nicholls offers Cushion-Step anti-fatigue matting in six colors, and in a variety of standard mat sizes, or custom rolls in 2, 3 and 4-foot widths up to 60 feet in length. The surface of the matting provides good traction, is durable and easy to clean. It is also resistant to oil, grease, common acids and alkalis, as well as many organic solvents if removed promptly.
"As the switch to our Cushion-Step anti-fatigue mats took place, Kaiser relayed positive comments from their grateful staff," said Ruminski.
In addition to pharmacies and medical offices, Cushion-Step anti-fatigue mats have been used successfully in stores at cashier stations, factory workstations, schools and universities.
About Martinson-Nicholls
Martinson-Nicholls, has established itself as a leader in custom anti-slip tape, floor mats, and eco-friendly products for more than 25 years.
Martinson-Nicholls provides the customer with the exact size matting needed--small, large, standard, nonstandard, special shapes and logos. Custom installations are also a specialty of the company.
Anti-slip safety tapes and treads are available in various sizes and textures from hand cut or die cut pieces to full rolls and special shapes. For more information, please visit http://www.floormat.com.
###