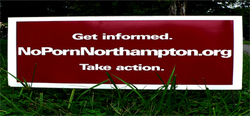 have blamed Amazing.net for being a magnet for loitering, prostitution and drug activity.
Northampton, MA (PRWEB) November 25, 2007
Today is the International Day for the Elimination of Violence against Women. In support, NoPornNorthampton announces that its website now offers over 500 articles--more than half a million words--of information and strategies to combat pornography. Porn has been shown by scientific research and personal testimony to degrade attitudes towards women, promoting the idea that women like sex mixed with violence. Porn plays a role in many cases of domestic abuse and child molestation.
NoPornNorthampton is a grassroots association of local citizens organized in June 2006. Its founders are Adam Cohen and Jendi Reiter. The association formed when Capital Video, a national chain of porn shops, proposed to open one of its Amazing.net outlets in Northampton, MA. After the public became aware of the "secondary effects" of adult enterprises, such as crime and blight, and Capital Video's track record, the Northampton City Council passed adult-use zoning legislation in November 2006. One effect of the new laws was to preclude Capital Video from installing viewing booths in its Northampton store, due to the store's close proximity to homes.
NoPornNorthampton applauds the city of Springfield, MA, which just revoked Capital Video's entertainment license to operate viewing booths at its Amazing.net store there. In a 13-page "Findings and Decision" released on November 20, Mayor Charles V. Ryan found "repeated and persistent evidence of illegal activity and complicity and reckless disregard of Capital Video's management over a long period of time which is sufficient to constitute a nuisance." NoPornNorthampton had mailed over 1,700 letters to the affected Springfield neighborhood on April 30, asking residents to encourage the Mayor to address problems caused by this store. According to the Springfield Republican, police and neighbors "have blamed Amazing.net for being a magnet for loitering, prostitution and drug activity."
NoPornNorthampton aims to integrate and publicize the best strategies and information from the past half-century of anti-porn activism. It describes state-of-the-art zoning strategies that can keep adult enterprises away from homes and reduce the damage they impose on neighborhoods. It presents legal strategies, such as claims for nuisance and liquor license appeals, that citizens can employ when harm occurs.
NoPornNorthampton's website provides several ways to access its large collection of studies, data and testimonies. The articles are organized into 30+ categories which can be browsed rapidly. New articles are cross-linked to previous articles on similar subjects. A sidebar on the left side of every page highlights key articles on such topics as the content of today's porn, conditions in the porn industry, conditions of prostitutes, distinctions between porn and erotica, healthy vs. addictive sexual behavior, the effects of porn on its viewers, the effects of adult enterprises on communities, what cities are doing to regulate these enterprises, and what individuals can do. A large section is devoted to Frequently Asked Questions, addressing concerns about censorship, respect for diverse practices, proof of harm, and many other common objections.
NoPornNorthampton does not support increased government censorship of media. It promotes the concept of "green sexuality". This sustainable sexuality is characterized by durable, mutually respectful relationships that enhance the lives of the lovers and the wider world. Green sexuality is a union between two equals, embracing both heterosexual and homosexual bonds but excluding polygamy, adult-child sexual relations and bestiality.
Green sexuality is consistent with the principles of the larger green movement, emphasizing long-term thinking, respect for other people, and an awareness of the consequences of personal choices. The green lover avoids mindless excess. By giving up superficial, fleeting, unsatisfying experiences, green relationships cultivate a finer, deeper, richer, and more robust way of living.
As measured by Histats.com, the NoPornNorthampton website currently serves 200-300 visitors per day--over 8,000 per month. Learn more at NoPornNorthampton.org. Please note our site contains text and images that some people may find unpleasant.
###