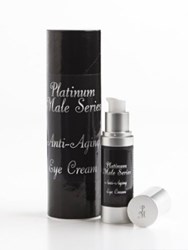 Wrinkles and fine lines around the eyes need no longer be the norm for men
Des Moines, IA (PRWEB) April 02, 2013
Recognizing the need for improved skin care for men, Ulta Life Inc. introduces Platinum Male Series Anti-Aging Eye Cream. Now offered on Amazon.com, Platinum Male Series Anti-Aging Eye Cream makes the indulgence of a high-end skin care treatment available at a modest price.
"Wrinkles and fine lines around the eyes need no longer be the norm for men," said Brent Vegors, Ulta Life vice president of product development. "Younger, healthier and more radiant skin is attainable with a care regimen based on Platinum Male Series Anti-Aging Wrinkle Cream."
Developed and tested in cosmetic laboratories in the United States, Platinum Male Series Anti-Aging Eye Cream's quality components are the key to its restorative properties. Ingredients such as retinyl palmitate will smooth, oligopeptides will tone and tighten, biopeptide CLTM will protect against ultraviolet rays and tetrapeptide-3 will reduce inflammation. Together they stimulate the skin's natural defenses against damage and aging while soothing and revitalizing.
The results of even a few applications of Platinum Male Series Anti-Aging Eye Cream will impress. With each use skin appears smoother, dark circles diminish and puffiness subsides. Fine lines fade, deep creases soften and skin appears toned, refreshed and more youthful.
For too long, harsh aftershaves and goopy shaving foams have been the only widely used skin care products geared toward men. With attention focused on the chin and cheeks, the delicate skin around the eyes, the feature most people notice first, has been neglected. Most men think fine lines and crow's feet, the signs of skin battered by time and elements, are inevitable.
As more men seek to look as youthful as they feel, they have begun to realize the benefits of a skin care regimen. A man's search for toning and moisturizing products that meet his special needs and budget often proves disappointing. Some manufacturers merely repackage women's skin care products with a new label and fragrance, neglecting the differences between men's and women's skin. Other manufacturers develop quality products for men but they often charge a hefty price. Fortunately, Ulta Life understands the skin care needs of men and has created the Platinum Male Series of affordable, highly effective products to address them.
"Men's skin is clinically different from women's in a variety of areas, so Platinum Male Series Anti-Aging Eye Cream is formulated with this in mind," said Vegors. "We are proud to have created a high quality men's product with a price point most men can afford."
Platinum Male Series Anti-Aging Eye Cream from Ulta Life can be purchased on Amazon.com at http://www.amazon.com/Platinum-Male-Series-Anti-Aging-Cream/dp/B00BPUTP9G. To celebrate this breakthrough in anti-wrinkle cream, Ulta Life is offering new customers a 50% discount on their initial purchase.
Ulta Life, Inc. is a developer of fine skin care products that deliver better results than over-priced name brands. Brent Vegors, Vice President of Product Development states "Since our inception our mission is to develop products that allow the average individual to enjoy the Ulta Life at the price they can afford, without compromising quality". "We are not willing to sacrifice quality just to offer a low priced item." Ulta Life, Inc. continues to work with specialty cosmetic laboratories, here in the USA, to create our skin care products for the Platinum Male Series