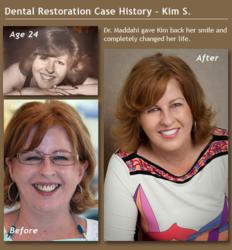 With current dental technology, we can reduce or eliminate many of these typical aging dilemmas, just by fully restoring and adjusting someone's teeth
Beverly Hills, CA (PRWEB) February 19, 2013
As a premiere Beverly Hills cosmetic dentist for nearly 25 years, Dr. Kourosh Maddahi is used to public attention for his often-innovative, always beautiful, approach to cosmetic dentistry. After all, he and his work are often featured on television shows, including Entertainment Tonight, 10 Years Younger, Extreme Makeover, and Oprah Winfrey, and he is frequently consulted on cosmetic dentistry issues by news media as well, including KABC News, KTLA morning news, and FOX's Good Day L.A.
But his latest innovation – anti-aging dentistry – is what really has this hub of the forever-young buzzing. With Dr. Maddahi's techniques, he can restore patient's teeth to their youthful glory days—bright, white and gorgeous – and restore the youthful planes of their face at the same time. Using materials such as the carefully custom-crafted Porcelain Veneers, Beverly Hills dentist Maddahi says that he can completely change not just patient's teeth, but also their face. And he will do it without a lot of pain or fuss.
Says Maddahi,
"I'm always looking for ways to make changes in a person's smile that will give me that perfect, natural result. I want to use technology to make it comfortable for the person. Dentistry doesn't have to hurt. And no one wants to spend weeks or months waiting to be able to chew and talk comfortably."
With Anti-Aging Dentistry, Dr. Maddahi can take years off of patient's age. Before they get the plastic surgery.
A good example of a patient who found the "fountain of youth" in Dr. Maddahi's Beverly Hills office is Marie. When Marie came to Dr. Maddahi for cosmetic dentistry, she was very definite about what she wanted.
"I had gotten a couple of front veneers several years ago, and I was not happy with them. Dr. Maddahi was very highly recommended, and I just wanted him to replace them with new veneers that would be a better color."
After examination, Dr. Maddahi recommended that Marie get four Porcelain Veneers, rather than two, to make sure that they looked natural. She agreed, and together they picked color of veneer that would be a better and more natural match for the rest of her smile. Then Dr. Maddahi suggested that they take the opportunity to make just a few more dental corrections, and take years off of her smile.
Marie was skeptical. Sure, her teeth did seem more crowded now than they had when she was younger, she knew that her back teeth weren't in perfect shape. But how could more dental work make her look younger?
The changes, Dr. Maddahi explained, would be in the shape and size of her teeth, not just their color. By expanding the arch of her jaw and lifting her teeth just a bit, he could improve the structure of her face.
"As we age, we lose a layer of fat in our faces, beneath the skin. In younger people, that layer of fat supports the skin, and gives our face and lips a full, taut appearance," Maddahi explained. "When we lose that fat, the skin starts to sag, and wrinkles appear."
Losing that crucial layer, Maddahi says, also causes the deep lines that people sometimes get on either side of their nose and mouth, and causes the lips to narrow, and appear thinner.
"And with current dental technology, we can reduce or eliminate many of these typical aging dilemmas, just by fully restoring and adjusting someone's teeth. It's quite remarkable: not only do you wind up with teeth that look and feel beautiful and healthy, you also have plumper lips, fewer wrinkles and well-supported skin."
To show Marie exactly what he meant, Beverly Hills Dentist, Dr. Maddahi prepared first a mold of her teeth, and then a wax-up to fit over her teeth, with the changes that he recommended. He placed the wax-up into her mouth, and Marie was able to watch as her mouth, cheeks and jaw relaxed into place – looking as they had about 10 years before.
Needless to say, Marie ordered the new crowns and veneers that day. Because Dr. Maddahi has an exclusive lab that prepares his special crowns and veneers, her new smile was in place in less than one week, and Marie was ecstatic about her permanently changed appearance.