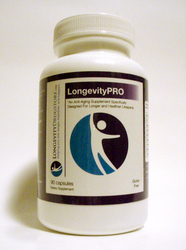 "LongevityPRO™ contains all of the best anti aging supplements, all in one bottle, in safe and potent doses."
Baltimore, MD (PRWEB) February 9, 2011
LongevityDrugstore.com, a longevity nutrition company based in Baltimore, Maryland, announced today the release of a combination anti aging supplement. The anti aging supplement, LongevityPRO™, is a nutritional supplement that combines nine anti aging supplements.
Longevity Drugstore's Founder and CEO Benjamin Shore commented on the company's vision. He explained, "When I started LongevityDrugstore.com, I had a simple vision. I believed everyone deserved to live a long, healthy, and happy life. I still have that vision. My goal, and LongevityDrugstore.com's goal, is to help people live longer, healthier, and happier lives."
Mr. Shore shifted his focus to talk about the release of LongevityPRO™. He shared that, "LongevityPRO™ is a groundbreaking anti aging supplement. We have taken the best anti aging supplements available today and packed them conveniently into one supplement. In the past, if you wanted to take several anti aging supplements, you had to research several independent companies, make sure that they offered quality products, make sure that you kept all of the different products in stock, order them from several different websites and catalogues, and even have shelf space devoted to all of the bottles."
He continued, "Now you don't have to worry about any of that. LongevityPRO™ contains all of the best anti aging supplements, all in one bottle, in safe and potent doses. One bottle is all you need. And you can rest assured that LongevityPRO™ is of the highest quality. Since it is made in the USA under the strictest GMP (Good Manufacturing Practices) guidelines and we meet or exceed all current FDA regulations, we're confident that you will be happy with our products. We will even fully refund your purchase price within 60 days of purchase if you aren't satisfied with your purchase."
The supplement, per serving, contains 125mg of resveratrol, 150mg of Co-Enzyme Q10, 50mg of DHEA, 100mg of Alpha Lipoic Acid, 500 IU of Vitamin D3, 250mg of Pomegranate Extract, 200mg of Green Tea Extract, 400mg of L-Carnitine, and 200mg of Carnosine. Mr. Shore concluded, "Our supplement allows the average user to be somewhat lazy but still get everything they want out of an anti aging supplement."
###