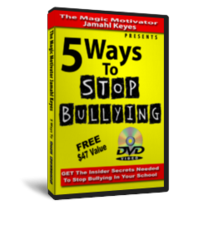 Many students in this information age don't even know how to identify bullying.
Indianapolis, IN (PRWEB) July 31, 2012
Anti Bullying program speaker and top selling Author Jamahl Keyes reveals five key strategies any student can use to prevent themselves from being bullied in school.
These incredibly powerful words come from Top Selling Author and Motivational Speaker Jamahl Keyes, the nation's leading authority on Anti Bullying Education and Youth Leadership and the creator of Can't Quit It Until You Get It Anti Bullying and Student Success book.
The Magic Motivator Jamahl Keyes is a powerful, entertaining interview. He'll tell your audience 5 Proven Ways To Bully Proof Your Students Or Child:

why its important to know that girls are 8 to 10 times more likely to bully and be bullied.
the enormous mistake parents and teachers make when educating students about bullying.
how the students of the information age don't really know what bullying really is.
the worst (and best) ways to educate your student or child about bullying.
great stories of success from people who have been bullied and used Anti Bullying program speaker Jamahl's easy-to use, can't-possibly fail techniques.
Anti Bullying program speaker Jamahl Keyes is a prolific author on the subject of Bullying and Youth Leadership. His newest work, "Can't Quit It Until You Get It, 5 proven ways to bully proof your child" has received critical acclaim from parents, teachers and educators from all over the country. He's appeared on ABC, CBS, Family Channel and even on TNN. He's been interviewed by over 91 radio & talk shows, newspapers and magazines.
Anti Bullying program speaker Jamahl Keyes is frequently interviewed on TV and radio, and his articles and interviews have appeared in newspapers, magazines and youth organization newsletters and blogs. Available for interviews, Anti Bullying program speaker Jamahl welcomes questions from listeners and readers alike.
Book Early! During the back to school season of 2012, Jamahl Keyes did over 50 radio, newspaper and TV interviews! Over 40 had to be denied. There was just no more time!