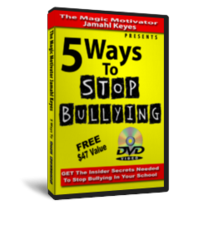 "Every student who starts off the school year must know these 5 Bully proof strategies to stop them from being bullied."
Indianapolis, IN (PRWEB) August 28, 2012
This school year thousands of students will step into their schools eager to learn and grow. More will become disengaged and depressed during the first 8 weeks than the rest of the entire year, do to schools and communities not effectively giving students good Anti-Bullying Resources and character education strategies to ignore bullies.
"This is a tragedy," says Motivational Speaker Jamahl Keyes, an author and character building and youth leadership expert. "Every student who starts off the school year is ambitious and wants to learn…but this doesn't matter if they don't know the five Bully Proof survival skills needed to deal with the students that find the need to bully others physically, verbally or through cyber space.
Here are 5 Ways To Bully Proof Any Child:
1. Build a relationship with an authority in the school, so if you need to report bullying you can.
2. Avoid situations if you can that will be away from the bully.
3. Never show fear, tell the bully that you will tell the necessary authority.
4. Continue to build up your self esteem.
5. The first time someone attempts to bully you, you must set boundaries right away.
Motivational Speaker Jamahl Keyes, author of The Magic In You Student Leadership Blueprint, has presented his Anti Bullying program "NO BULLY SWAGG" in thousands of elementary, middle school, High School and Colleges all over North and South America. He was a teacher in the classroom for 8 years, violence prevention coordinator for 5 years and is now, one of the most requested speakers on the youth leadership circuit.
Motivational Speaker Jamahl Keyes is a very outspoken strait to the point speaker who teaches students how to position themselves for success in this Global job market.