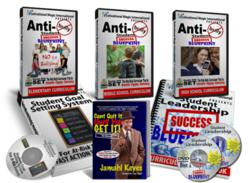 "What many teachers and administrators don't realize is that many Anti Bully and Character education curriculum fail to do is to create a curriculum that is entertaining, engaging and most of all educational."
Chicago, IL (PRWEB) August 31, 2012
Educating the MTV driven, Hip Hop culture, reality TV, cyber space junkie student of this information age is a difficult job. Finding the right Anti Bullying and character education curriculum can be hard enough but it's only once you've picked the curriculum you want to buy, that difficulties really begin. And many teachers and administrators make the mistake with their very first move; they purchase an Anti-Bullying Resource Character Education Kit that is dated and none relative to the issues and situations that the student of this information age may encounter.
"What many teachers and administrators don't realize is that many Anti Bully and Character education curriculum fail to do is to create a curriculum that is entertaining, engaging and most of all educational," explains Motivational Speaker, Author and Character Education expert Jamahl Keyes, who has over 15 years experience educating students, teachers and community leaders about the importance of youth character education and leadership. "All Anti Bully and character education curriculum must be engaging and entertaining if we are to educate the student of this information age effectively."
Nonetheless, every year, hundreds of schools and communities attempt to slap, cut and paste together some generic Anti Bullying and Character education lesson in hopes to put a band aid on a massive youth leadership and lack of character education epidemic we have in the American educational system.
The best thing that any teacher, administrator or community leader can do when looking to find away to educate their youth on character and youth leadership, advises Jamahl, is find innovative, out the box, entertaining and engaging ways to get their youth to want to learn. To educate the student of this information age, we as teachers, administrators and community leaders need to be as bold, in your face and innovative as the TV shows they watch, the music they listen to and the games they play.
"At the very least, we must give the issue of Anti Bullying and Character education just as much attention as the other standard subjects in school, that's why I with the help of some great curriculum writers created the Anti-Bullying Resource Character Education Kit because we saw the effects of the students that didn't learn these necessary youth leadership and character skills needed to be successful in this Global Economy."