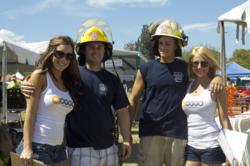 QOGGO helps businesses develop custom Rewards and Loyalty programs specific to their niche
Tampa, FL (PRWEB) April 23, 2012
QOGGO uses a Calculator to teach businesses that "desperation marketing," such as 50% off daily deals and coupons, suck the life out of local biz. The Qoggo Calculator graphically illustrates that when companies use these marketing techniques, they attract large numbers of ONE-TIME bargain shoppers at "no up-front cost", but end up losing profit. These bargain shoppers often don't ever convert into long-term loyal customers because they are just interested in waiting for the next deal or coupon.
QOGGO helps businesses develop custom Rewards and Loyalty programs specific to their niche as a more effective, and economically efficient way to entice new and existing customers, and keep them coming back. QOGGO has recently partnered with a Mobile App company, and is now able to provide its clients with custom designed mobile applications for their businesses.
10% of QOGGO quarterly profits are donated to local charities selected by consumers on the site.
In addition to educating businesses, QOGGO has also just pushed out a beta test version of its local event photo sharing service. The photo galleries' purpose is to allow consumers, event planners, organizations, and businesses to share what's going on in their local city, and share it with folks in other cities and states throughout the country. Local businesses thus far are extremely excited about the potential of the galleries because it does not just limit them to their local fans, email lists, or followers. It also helps them build word of mouth about their events in other areas of the countries for free.
QOGGO also recently announced an iPad contest on its Facebook Page . For more information, contact Qoggo .