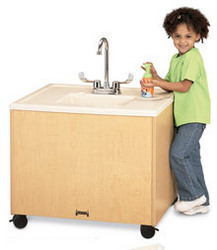 Dallas, TX (PRWEB) October 14, 2009
Worthington Direct (http://www.worthingtondirect.com), a supplier of school, church and early learning furniture and equipment for over 12 years has acted on the new growing trend for anti-microbial school furniture and has added some "healthy" products to their lineup. As the flu season continues, the concern about the spread of flu viruses amount school children has prompted many school furniture manufacturers to begin making anti-microbial finishes available on their furniture lines.
Correll's anti-microbial blow-molded plastic folding table as extra defense against germs and bacteria. The anti-microbial compound is blended into the tabletop mold, so it will never scratch or wear off. Perfect for classrooms, cafeterias and event venues, this table has sturdy steel legs that hold up in any setting.
Also look for the adjustable height, non-folding plastic resin activity table with the same anti-microbial features.
The Centers for Disease Control and Prevention posted a situation update reminding us why germ control is important. "During the week of September 27-October 3, 2009, influenza activity continued to increase in the United States. Flu activity is now widespread in 37 states. Nationwide, visits to doctors for influenza-like-illness increased over last week and are higher than expected for this time of year. In addition, flu-related hospitalizations and deaths are increasing as well, and are higher than expected."
Hand washing is a key factor in controlling the spread of germs that are at a hands reach in every school. Worthington Direct has several portable sinks available that make washing hands more accessible within the classroom without sending students into an unsupervised public restroom. Portable classroom sinks are also great for teachers that need to stay in the classroom yet require a clean set of hands.
How does this technology work? Anti-microbial finishes are often coatings made up of silver ions. These attack the outer cell of the microbe, break down its DNA and then mulch to prevent cell replication. Bretford, a maker of school computer tables and classroom AV carts, has also created their new Microbe Barrier Technologies that actually acts like a bed of microscopic spikes that pierces the cell walls of microbes.
Educating students, staff members and facility guests on the importance of hand washing and other healthy tips is key. Designate a bulletin board in the classroom or hallway that can be used to post helpful tips or directions to the nearest hand-washing station. Vinyl covered tack boards are ideal as they can be easily wiped down with disinfectants and other cleaning products.
Guests can also find a germ-free refuge when you provide anti-microbial vinyl stack chairs for you lobby, waiting room or office.
About Worthington Direct: After spending over 12 years in the school supply, church and equipment industry, Worthington Direct knows what is important - selection, service, price and timing.
Our goal is to make your purchasing job easier. With competitive pricing, knowledgeable sales associates, and "In Stock" products for quick, efficient shipping, Worthington Direct is committed to be your furniture resource. Schools and churches look to Worthington Direct for competitive pricing for school furniture, church furniture, preschool furniture, early childhood furniture, library furniture, desks, wholesale furniture, computer furniture, classroom furniture, chalkboards, office furniture, room dividers, storage cabinets, easels, display cases, cafeteria tables, activity tables, classroom desks, computer tables, desk chairs, lecterns, literature racks, office desks and risers among its large stock.
###