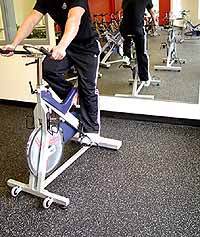 Assessing The Effectiveness of Antimicrobial Agents Infused in Polyurethane Composite Rubber Flooring Products in the Control of Bacterial Pathogens
McMinnville, OR (PRWEB) October 27, 2009
RB Rubber Products introduces revolutionary antimicrobial flooring and surfacing products. These products will not only provide antimicrobial protection, they are low in VOC's (volatile organic compounds) and utilize recycled materials, key components of LEED certification. The proprietary antimicrobial additive chemistry is available in a wide range of RB Rubber products.
Rubber flooring products in areas with high public use, particularly areas such as:
Playground tiles
Athletic flooring
Fitness centers
Locker room flooring
Day care areas
Veterinary areas
Health care facilities
Pet and agricultural products
Food service areas
present a significant potential for growth of microbes in the form of bacteria, fungi, and mold. This is a result of a combination of traffic, moisture, temperature, and availability of nutrients to support microbial growth. Microbial growth can result in compromised indoor air quality, odors, staining, and deterioration of the physical properties of effected materials.
A groundbreaking research project by RB Rubber and the Saint Louis University Dept. of Biology was undertaken to identify the specific types of microbes and bacteria present on public flooring surfaces in playgrounds, fitness centers, and athletic facilities.
A variety of antimicrobial chemistries were evaluated to optimize their effectiveness against the target species as well as methods of incorporation of the antimicrobial ingredients in the final product.
Due to the nature of the product application, the antimicrobial chemistry was required to be not only effective, but exhibit low VOC content, be environmentally sensitive, and exhibit extremely low potential for toxicity to humans and animals.
The results of this study:
"Assessing The Effectiveness of Antimicrobial Agents Infused in Polyurethane Composite Rubber Flooring Products in the Control of Bacterial Pathogens"
were presented at Polyurethanes 2009 Technical Conference on October 6, 2009.
The antimicrobial technology developed during this study has been adapted for use in a variety of RB Rubber products. This technology is based on the incorporation of EPA and FDA registered antimicrobial agents in accordance with the "treated article or substance" standard set forth in 40 CFR 152.25(a) to inhibit the growth and proliferation of bacteria, fungi, and mold. This technology is not intended to protect users or others against bacteria, viruses, germs, or other disease causing organisms.
Products available with antimicrobial flooring additives include
ZIP TILE
ATHLETIC MATS
FITNESS MATS
FLEC-LOCK
FLEC SPORT MATS
FLEC SPORT ROLLS
MEGA-LOCK
BOUNCE BACK SAFETY SURFACING
SILENT TREAD
TENDERFOOT STALL MATS
For specific product availability and pricing, please contact your RB Rubber representative at (800) 525-5530.
###