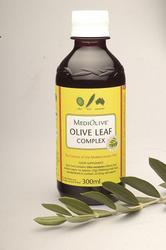 Brisbane, Australia (PRWEB) March 6, 2008
After recent Australian laboratory results questioned the claimed antioxidant efficacy of some "super juices", an Australian olive leaf liquid, made solely from fresh olive leaves, has been put into the spotlight.
Australia has seen increasing promotions for a range of exotic fruit juices carrying various health claims including "super-antioxidant" status. The most widely promoted are Goji, Noni, Açai and Mangosteen juices but due to large variations in antioxidant potential between the different fruits and brands their entry to the Australian market has raised significant discussion.
Australian consumer advocate Choice magazine recently completed a study showing that some of the "antioxidant" juices sell for up to AU$85 per litre, but a single dose contained only 10 per cent of the antioxidant capacity of an apple.
Amidst all of the discussion a little-known Australian supplement has been scientifically proven to have an antioxidant capacity so powerful that it is attracting positive interest from both functional beverage manufacturers and the medical community.
MediOlive™ Olive Leaf Complex http://www.MediOlive.com is made directly from fresh olive leaves at Olive Products Australia's 550,000 tree, south-east Queensland property. It is listed on the Australian Register of Therapeutic Goods (ARTG) and has scientific evidence to support its health claims, including its very powerful antioxidant and free radical scavenging capacity which helps to protect cells from deterioration and to maintain health and well-being.
Olive Products Australia Co-Founder Julian Archer commented, "Consumers are increasingly wary of health claims on foods and drinks but they understand the health benefits of the antioxidants found in olive oil, fresh vegetables and other Mediterranean diet ingredients. When they learn that our fresh Olive Leaf Complex has up to 40 times more of these compounds than even extra virgin olive oils they want to know more. It's like a Mediterranean diet concentrate."
In 2005 Southern Cross University completed the first-ever antioxidant capacity tests on the complex finding that it contained 400% greater antioxidant power than Vitamin C.
When compared with the antioxidant capacities of the exotic juices being sold on Australian shelves the results were even more impressive.
Based on the internationally-recognised total antioxidant capacity (TAC) per litre comparison, MediOlive™ Olive Leaf Complex has a total antioxidant capacity (TAC) of more than 507,000 μmol TE/litre. This makes it more than 28 times more powerful than some of the juices in the Choice study and 500% more potent than even the highest ranking of the "super juices".
When combined with its confirmed anti-microbial, cardiovascular and other health benefits Australia's MediOlive™ is shaping up to be a significant market player.
MediOlive™ will be on display at booth 5073 at Natural Products Expo West in Anaheim, California, March 14-16, 2008 and on the Comvita booth at Natural Products Expo Europe in Olympia, London in April 2008.
###