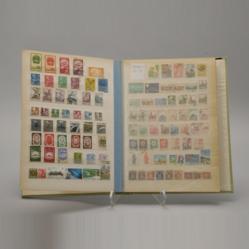 Alamada, CA (PRWEB) February 28, 2012
The Michaan's Auctions Stamp and Coin Sale is slated for March 5, 2012 and will offer a vast selection of international stamps. Stock includes thousands of stamps from across the globe with a large Chinese representation in the sale. Of note are three lots of People's Republic of China commemorative stamps issued in 1949 by North China's Postal and Telegraph Administration at an estimate of $600-800 per lot. Also available is a collection of one hundred and twenty 18th and 19th century Imperial Russian silver and copper coins at an estimate of $1,200-1,500.
However, quite unique to this particular auction are the ephemera lots. Thousands of vintage postcards were acquired from the estate of a gentleman with an affinity for collectable stamps and postcards. The onetime owner of the Windsor Stamp Company collected postcards as a hobby throughout his life, even as he served during the second World War. The assortment reflects his own personal love of collecting, spanning numerous topics and genres.
Of note are postcard groupings including religious Roman figures, Italian images and old film star cards featuring actors such as Greta Garbo, Rudolfo Valentino, Douglas Fairbanks and Gloria Swanson. Collectors may also find great interest in cards from the early 1900s containing numerous depictions of Italian buildings destroyed during the second World War. There are hundreds of these rare postcard images to choose from, making it quite a unique collection indeed.
Another worthy find is a substantial album of over 450 whimsical vintage postcards from various locations. The rare grouping includes Hawaiian, Philippine, Japanese, Mexican, Chinese and California related images. The assortment is pre-grouped with many humorous, novelty themes sure to amuse and delight.
Local nostalgia buffs may also find great interest in the collection of Bay Area images, primarily from the early 1900s. Depictions include those of the Golden Gate Bridge, Bay Bridge, U.C. Berkeley, Shattuck Avenue, Lake Merritt, the Federal Building in Oakland, the Scottish Rite Masonry, the Webster Posey Tube and Neptune Beach. A delight for collectors of all ages, the postcard accumulation offers an educational trip back in time.
The illustrated auction catalog will be on-line for review at http://www.michaans.com. Previews open at Michaan's Auctions on March 2nd and continue until the day of sale. For more information please visit our website or call the front desk at (510) 740-0220.
About Michaan's Auctions
Michaan's Auctions is one of the leading full service auction houses on the West Coast. Specializing in the appraisals and sale of antiques and fine art, Michaans has specialists in the fields of Furniture and Decorative Arts, Modern, Contemporary Art, European and American Paintings and Prints, Jewelry, Asian Works of Art and Ethnographic Art. Offering free art appraisal, antique appraisal, estate auctions and specializing in the sale of art and antiques and other fine collectibles.
Established in 2002, Michaan's Auctions holds up to thirty sales each year attracting a broad base of buyers and consignors from all over the world. With one of the largest facilities in Northern California and the Bay Area's lowest buyers premium Michaan's offers buyers and sellers the opportunity to preview and bid on many unique and desirable property. Some of these pieces realized world record prices. In 2005 A.D.M. Cooper's oil painting, Three Graces 1915, sold for a record $21,060 and an Eduard Gaertner oil, German City Street Scene 1831,sold for $266,000.
Michaan's has built its reputation on its ability to accept single items, groups or entire estates with its "no risk consignment policy" free of hidden fees and charges. Michaan's specialists are dedicated to staying current on the latest issues and developments in the market and are committed to providing personalized and professional attention throughout the entire auction process.
For a full listing of upcoming auctions or to view a complete catalog, please visit http://www.michaans.com.
###