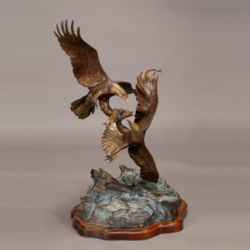 Alameda, CA (PRWEB) April 23, 2012
The fine art portion of the sale encompasses over 140 lots of European and American art, primarily from the 19th to 20th centuries. Two American artists comprise both of this month's highlights. The featured lots beautifully depict the opposing sides of nature; one represents its serene calm while the other reflects the competition for survival. The first is "Desert Landscape" by Samuel Hyde Harris (lot 086, $1,400-1,800). The oil painting depicts a solitary desert tree in tones of light sage cut with accents of fiery orange. A master of subtle, impressionist California landscapes, his professional acclaim is evident as he has won well over 100 awards during his career.
In stark contrast is a bronze by Clark Bronson titled "Eagle's Conquest, 1980" (lot 049, $2,000-4,000). The sculpture shows two dueling eagles in flight directly above swirling ocean waves. The birds are fighting over a prized salmon, each with their talons firmly clasped around the fish. Bronson built his reputation on watercolors and bronze bird sculptures such as this fine example. The piece is quite substantial as well, measuring approximately 34 x 24 x 20 inches, including the base.
Classic Cartier sophistication is at the forefront of the Jewelry Department's May sale. Lot 370 is a Cartier octagonal Santos two-tone wristwatch estimated at $2,000-3,000. Introduced in 1904, the Santos is recognized as Cartier's first true brand wristwatch. A signature watch style for the House of Cartier, Louis Cartier pioneered the deployment-folding clasp first seen in the Santos series of 1910. The watch highlights a wonderful selection of jade, diamond, gemstone and novelty theme jewelry up for auction in May.
The Asian Department has over 100 lots up for auction in the May sale including but not limited to scrolls, porcelains, sculptures, furniture, jade, decorative objects and snuff bottles. A Ding ware type white-glazed vase highlights the department's offerings at an estimate of $300-500 (lot 506). The unusual details of this vase set the piece apart. The interesting form is adorned with petal motifs upon the top and bottom as two stylized dragons continuously wrap around the body. A pair of ornate handles in the form of mythical beasts are placed near the top of the piece, finished with a lovely, creamy bone colored glaze.
The Furniture and Decorations Department has two interesting collections up for sale amongst its offerings of clocks, fine china services, silver wares, ornamental figurines, lamps and collectables. A collection of presidential campaign memorabilia is offered in four separate lots, each highly collectable and in excellent condition. Lot 413 contains items from the McGovern-Eagleton-Shriver campaign of 1972 ($250-300). Eagleton was the first vice presidential nominee to withdraw from an election and only eighteen days into it for that matter. Therefore, printed materials from this ticket are a rare find indeed. Other lots containing political material in the May sale include Ronald Reagan campaign items circa 1980 (lot 415, $300-400), Robert Kennedy presidential primary material circa 1968 (lot 412, $300-400) and Mondale-Ferraro presidential ephemera circa 1984 (lot 414, $300-400).
Also noteworthy are vintage advertising signs, perfect for the niche collector. All are framed and in display worthy condition. The selection includes a sign touting the excellence of a blood purifier (lot 853, $1,000-2,000), an ad for an Atkins saw (lot 854, $300-400) and a notice featuring a catarrh remedy (lot 855, $800-1,200).
The illustrated auction catalog will be on-line for review at http://www.michaans.com. Previews open at Michaan's Auctions on May 4th and continue until May 7th, the day of sale. For more information please visit our website or call the front desk at (510) 740-0220.
About Michaan's Auctions
Michaan's Auctions is one of the leading full service auction houses on the West Coast. Specializing in the appraisals and sale of antiques and fine art, Michaans has specialists in the fields of Furniture and Decorative Arts, Modern, Contemporary Art, European and American Paintings and Prints, Jewelry, Asian Works of Art and Ethnographic Art. Offering free art appraisal, antique appraisal, estate auctions and specializing in the sale of art and antiques and other fine collectibles.
Established in 2002, Michaan's Auctions holds up to thirty sales each year attracting a broad base of buyers and consignors from all over the world. With one of the largest facilities in Northern California and the Bay Area's lowest buyers premium Michaan's offers buyers and sellers the opportunity to preview and bid on many unique and desirable property. Some of these pieces realized world record prices. In 2005 A.D.M. Cooper's oil painting, Three Graces 1915, sold for a record $21,060 and an Eduard Gaertner oil, German City Street Scene 1831,sold for $266,000.
Michaan's has built its reputation on its ability to accept single items, groups or entire estates with its "no risk consignment policy" free of hidden fees and charges. Michaan's specialists are dedicated to staying current on the latest issues and developments in the market and are committed to providing personalized and professional attention throughout the entire auction process.
For a full listing of upcoming auctions or to view a complete catalog, please visit http://www.michaans.com.