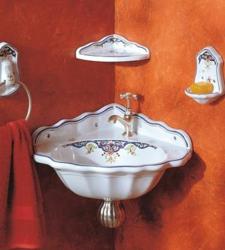 Herbeau specializes in authentic vintage bathroom fixtures and accessories, and coordinates them to make it easier than ever to build an authentic antique bathroom.
(PRWEB) October 23, 2012
HomeThangs.com – the Home Improvement Super Store has made their goal to deliver the right product to the consumer, with that in mind, shopping and home design tips, as well as special product selections are being introduced.
Historical authenticity can be difficult to come by, and creating a Victorian or Edwardian bathroom that stands up to scrutiny takes more than a little care. But that doesn't mean one has to be a historian to pull off a classical look, it is enough just to know how to shop. Herbeau specializes in authentic vintage bathroom fixtures and accessories, and coordinates them to make it easier than ever to build an authentic antique bathroom. HomeThangs.com is happy to offer Herbeau's wall mount sinks and accessories, as well as a tip sheet to help design a picture perfect period inspired powder room or guest bath.
1. Herbeau's hand crafted, hand painted vitreous china sinks are the heart of their antique bathroom collection, based on the shapes, colors, and designs found in 19th century French fixtures. In fact, each one is artisan-made using traditional techniques and materials – and Herbeau knows, since their family has been in the business of making bathroom fixtures by hand since 1857. In fact, many of their sinks come in unique shapes you won't find in contemporary design – like the lovely slightly scalloped Valse Handbasin. And because many of Herbeau's powder room fixtures can be customized, it's easy to pair any of their sinks with something like the Charly towel ring/soap dish combination to add functionality and charm to a small space.
2. With almost every item in Herbeau's historical powder room collection, one can choose from several different historical colors and patterns, and in some cases even choose the color of the decorative hardware or color of the china itself. The Colquille is even available in 13 different patterns and colors, with a variety of faucet configurations. Where some authentically antique designs are rather inflexible, Herbeau actually offers a broader than usual variety of customization options to get exactly the look and color scheme desired, both in the sinks themselves and in the add-ons, like the matching Colquille Shelf and Tumbler.
3. One of the distinct advantages of having these hand-painted, customizable finishes is that it's incredibly easy with Herbeau to match their antique bathroom fixtures, from their wall mounted sinks all the way down to their soap dishes. The Sophie Mirror Frame can be finished with exactly the same designs, making it not only a perfect match for any of their sinks, but also establishing a built in, classical, slightly feminine color 4. scheme.
4. But Herbeau doesn't stop there – they offer a whole line of powder room accessories, like the Jar Set and Pitcher. Not only is this a great way to continue repeating the delicate floral pattern, but it's also these small details that help add authenticity to a historical design. The water pitcher and canisters especially hearken back to a much older bathroom, and while the pitcher will probably be more decorative than functional, it will give anyone that uses the bathroom the visual cue to think of a sink as an old fashioned washbasin.
5. While modern bathrooms are trending toward industrial materials – concrete, chrome, and glass – in a more traditional bathroom classic vitreous china and fireclay work best. The Neptune Collection comes with everything needed to equip a petite powder room – from the Neptune Sink to matching Towel Ring, Soap Dish, and even a petite Corner Shelf. Herbeau even offers vitreous china toilet paper holders. They really leave no detail unattended, essentially creating an entire, coordinated, easy-to-assemble period style bathroom that's complete from top to bottom.
HomeThangs.com is not only a home improvement superstore, it also provides expert design tips and a comprehensive shopping guide, taking the ideas from professional interior designers, and offering tips to the consumers on how to pick the products to best suit their needs.