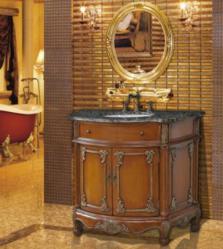 There are a lot of different types of antique finishes, from simple aged paint to elaborate multi-tone designs, each one accenting a different aspect of the antique style.
(PRWEB) August 17, 2012
HomeThangs.com – the Home Improvement Super Store has made their goal to deliver the right product to the consumer, with that in mind, shopping and home design tips, as well as special product selections are being introduced.
The best antique bathroom vanities are those with high quality finishes. Real antiques don't look like they were bought brand shiny new from a boutique, and to get an authentic antique look and feel, bathroom vanities shouldn't be, either. There are a lot of different types of antique finishes, from simple aged paint to elaborate multi-tone designs, each one accenting a different aspect of the antique style.
HomeThangs.com has introduced a selection of antique bathroom vanities with unique aged finish and a shopping guide on how to pick the right one to convey that antique look and feel
1. Shadowed Detailing
Many of the best antique bathroom vanities have finishes that come in multiple tones, highlighting or shading different parts of the wood in ways that mimic natural aging. For example Halee vanity from Soci recreates the natural darkening of wood over time, putting the ornate panels on the front of the vanity in deep shadow. This creates the impression that the wood has been rubbed, worn, and discolored over time, but in a way that's pleasing. The prominent wood carvings are accented in the same way, enhancing the antique look while attracting the eye to the vanity's points of interest.
2. Highlighted Detailing
Similarly, drawing attention to the woodwork on antique bathroom vanities with a lighter or even metallic color, like with the Juno vanity from Stufurhome has somewhat the same effect. Instead of making the vanity look worn down and stained with time, doing this makes it looked rubbed light. Especially when the rest of the stain varies slightly in color, this gives the impression of uneven wear and tear. Instead of making it look either faded or too-new, this type of finish strongly visually accents the wood detailing, making even a fairly simple carved design stand out.
3. Two-Tone or More
The more colors and layers of finish on antique bathroom vanities, the greater depth the piece will have, both in terms of color and visual interest, as well as antique authenticity. The Trentino vanity from Virtu is made of solid walnut, but with no less than three different stains, darkening the outside edges of the vanity to contrast the lighter paneling on the doors and drawers. The wood detailing has an even darker stain, which makes it stand out dramatically and enhances the appearance of texture. Not only does this intensify the three dimensional aspect of the vanity, but it also creates the impression of a variety of expensive wood types.
4. Pure Simplicity
Going back to antique methodology gets the most authentic antique style. The Celine vanity from Herbeau is made of heirloom quality solid ash wood with a painstakingly hand-applied antique finish. It's the wood here that's the real star, with beautiful, visible, completely natural wood grain with a finish that's designed to allow the wood to age naturally over time. Not only does this vanity look like an antique to start, but is of such a high quality that it's actually an antique in the making.
5. Weathered White
White is one of the most common colors found antiqued, because it's just that much easier to pull off than giving wood a weathered finish. While natural wood can take decades to acquire the beautiful, slightly faded glamour of aged white vanities like the Weathered White Vanity from Silkroad Exclusive can be painted to look worn down, and then roughed up to ramp up the authenticity.
Like old paintings or painted antique furniture, the hairline cracks in the finish on antique bathroom vanities like the Savannah vanity by Soci add both texture and age.
6. Weathered Black
Black is another excellent choice for truly antique bathroom vanities. Guild Hall vanity from Kaco is a good example. Kaco's specialty Sherwin Williams finishes are their greatest claim to fame, and this beauty is certainly no exception. Painted a not-quite-solid black, this vanity has a particularly homey feel, like the vanity has been in the same spot, being used for generations to the point that the finish is starting to grow thin. In fact, they're just giving you a head start – perfect for a casual, old fashioned bathroom.
Aged black bathroom vanities can pull off sophisticated just as well as homey. The Arlington vanity from uses a similar technique to create quite a different style. By wearing down the edges of all the wood detailing, it perfectly creates the impression of being well-worn, but the slightly faded gold stenciling is what really cinches the look. Hand painted to look like it was fresh and new a couple hundred years ago, the faded, period-authentic design is what really makes it look authentic.
7. Antique Paint
One can pull off colors in an antique bathroom design as well, but it's a little harder. Bold colors, even well-weathered ones, are homier than they are antique. Although antique effect can be achieved by picking vanities painted in colors specific to period styles. The Aquarelle vanity from Sterling is a great example, with a gorgeous silver leaf pattern to go along with the vanity's rugged, time-worn complexion and a period style color palette.
HomeThangs.com is not only a home improvement superstore, it also provides expert design tips and a comprehensive shopping guide, taking the ideas from professional interior designers, and offering tips to the consumers on how to pick the products to best suit their needs.