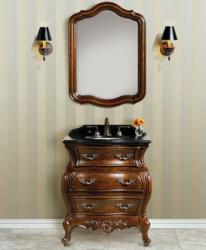 Building a period style bathroom is all about striking a balance between luxury and authenticity.
(PRWEB) May 26, 2013
HomeThangs.com – the Online Home Improvement Store has made their goal to deliver the right product to the consumer. With that in mind, shopping and home design tips, as well as special product selections are being introduced.
Building an antique inspired bathroom isn't easy. Real antiques should never be exposed to the harsh, humid, and ever changing environment of the bathroom, and replicas designed specifically for the bathroom aren't always easy to come by. Traditional bathroom vanities easier to find, but truly ornate antique styles – with elaborate wood carvings and exotic wood veneers - are rarer. More difficult still is building a total bathroom design based on an eclectic selection of mixed and matched styles from all different regions and all different time periods. HomeThangs.com has introduced a guide to antique bathroom vanities, which offer one of the best ways to get a cohesive period-inspired decor.
1. Antique Veneers
It's simple to match a framed mirror and a bathroom vanity when both have a generic "espresso" finish. With antique bathroom vanities, which are often made of much rarer and more exotic woods, getting a perfect color match is almost impossible without buying them together as part of a set. If a vanity is made with exotic wood veneers, a mirror in the same collection will be made of the same material to match.
2. Antique Woodwork
Antique bathroom vanities are largely characterized by the degree of detail in the woodwork. Elaborate floral carvings and intricate, hand-wrought flourishes, and sometimes hand painted details are part and parcel of an antique design. That's why antique vanities that don't include a vanity top, sink, faucet, mirror, or linen cabinet (which is how most vanities of all types are sold), it can be almost impossible to match these intricate details across separate pieces of furniture. This is really the most important reason for antique bathroom vanity sets, as they package together all the major bathroom furnishings not only in exactly the same finish, but with all the same finishing work, too.
3. Better For A Bigger Bathroom
The famous furniture designs that have survived until today as "antiques" were originally used in huge, sprawling spaces. Even now, antique bathroom design is often reserved for larger bathrooms. While there are models designed for a small bathroom, vanities 72″ or wider are typically antique in style. Antique bathroom vanity sets – especially ones with a three-piece modular design – are incredibly valuable for this type of bathroom. Not only do they include less expensive stone vanity tops, but because the vanity comes in three pieces, they're much easier to install.
4. Complete Stone Counter Tops
Building a period style bathroom is all about striking a balance between luxury and authenticity. Not all details must be historically accurate, but they should stay true to the spirit of the times as well as the overall aesthetic of the bathroom. One of the easiest details to get right is simple: install marble or granite counter tops for a double whammy of history and luxury. Antique bathroom vanity sets do this especially well, as the included vanity tops are chosen to match the design, and are much less expensive because vanity manufacturers buy and cut them in bulk.
5. Seamless Sinks
One of the less obvious advantages of antique bathroom vanity sets (specifically the included vanity top) is that the holes for the sink are always perfectly cut for that company's sinks. That makes installing undermount sinks easy – so easy, in fact, that many sets come with the sink already attached to the counter so they can install as a single piece. This is great not just for a seamless, finished antique style, but having a sink mounted underneath the counter rather than sitting on top of it makes it much easier to clean – any debris can easily be wiped right into the bowl. No-fuss spill cleanup also means that stone vanity tops, which can be a bit fussy to care for, are a lot less likely to discolor or stain.
6. All Together Excellence
Perhaps more than with any other type of decor, antique bathroom vanity sets take a lot of the headache out of upgrading a bathroom. The more complete the set the better: mirrors, sinks, vanity tops, faucets, and storage cabinets all coordinated and even partially assembled each mean a little less struggle to build a matching design. And when it comes to buying high end antique replicas, purchasing as many pieces as possible in a single package is maybe the most reliable way to lower the total cost of the project.
To find out more about these antique bathroom vanity sets, read the full article here.
HomeThangs.com is not only a home improvement superstore, it also provides expert design tips and a comprehensive shopping guide, taking the ideas from professional interior designers, and offering tips to the consumers on how to pick the products to best suit their needs.