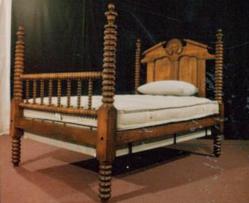 Clark, NJ (PRWEB) May 17, 2012
Custom Bedding/Orange Mattress offers a variety of mattresses in any shape or size which can accommodate any antique bed. Various types of antique bed mattresses are handcrafted utilizing horse hair, cotton, latex and wool in any or all combinations.
Options and types of antique which are on the market today include the Golden century of Furniture design. This was a period that furniture design became a popular art expressing the changing moods of people and the exuberant spirit of the times. The roots of this phenomenon were economic and social. The mercantile expansion of England and France created a new middle class between the nobility and the peasants that could not afford furniture. Creative new designs were brought forth and was soon accepted by designers and craft shops.
Handcrafted Antique beds are highly ranked in there craftsmanship and is unbeatable by modern mass production. Here at Custom Bedding/Orange Mattress tradition is met by manufacturing old fashioned mattresses which once accompanied these find antique beds. For more information you can contact us at 732-428-4125 or visit our website at http://www.mycustombedding.com. Our showroom where you can come down and try the mattresses is located at 77 Central Ave. Target Shopping Center Clark, NJ 07066