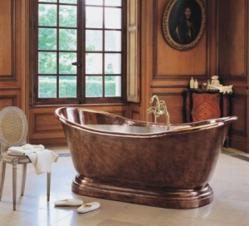 To educate the consumers who would like to bring some breathtaking luxury into their bathrooms, HomeThangs.com presents a list of qualities of a copper bathtub.
(PRWEB) July 09, 2012
HomeThangs.com has made their goal to deliver the right product to the consumer, with that in mind, shopping and home design tips, as well as special product selections are being introduced.
To educate the consumers who would like to bring some breathtaking luxury into their bathrooms, HomeThangs.com presents a list of qualities of a copper bathtub.
1. Copper Tubs Are Build To Last
Copper price is on its way up, although it's no gold or silver, but it's definitely valuable, especially because any copper tub should be made of pure, rather than recycled copper. Unadulterated copper tubs have a number of unique properties that set them apart from any other kind of tub, not the least of which that they're indestructible. Copper tubs, such as the Double Slipper COTDSN-AC from Barclay are solid, heavy, have very thick walls, and are resistant to corrosion and decay.
2. Pure Copper Has A "Living Finish" That Naturally Repairs Damage
With cast iron, porcelain, or acrylic tubs, one has to live with any scratches, nicks, or stains that appear as the tub ages, or go great lengths to repair them. But if a copper tub gets damaged, it'll show up, at first, the color of a shiny new penny – the color of raw, unaged copper. But over time, the copper will start to age and will become the same dark, lustrous color. The highest quality tubs, like the Essex 66 SC-ESX-66 by Sierra Copper, actually use a fired hot process to age the copper to form the patina, it's a completely natural finish, rather than one that's waxed on or otherwise applied. Even if the patina is scrubbed off the entire inside of the tub, it will return to the original color all by itself as it ages with use.
3. Copper Tubs Are Truly No Maintenance
Copper tubs also don't need to be cleaned – even to the point that they shouldn't be. Any harsh cleaners, acids, or abrasive cloths can strip away the patina of the tub and leave it looking bright and shiny instead of aged and regal. So the tub has to be periodically rinsed with a mild soap and water. If the water is hard, it is recommended to wipe the tub dry with a soft cloth between uses to prevent mineral buildup, also, a mild wax should be applied to the surface once a year or so to help the water bead and drain on its own. Unless harsh cleaners are applied, the more a tub is used, the deeper, richer, and more lustrous the finish will become. Example: Lexington bathtub SC-LXT-65 by Sierra Copper
4. Copper Is Naturally Anti-Bacterial
On a stainless steel sink (for example like the ones surgeons use) certain harmful bacteria can stay alive for over a month. The same bacteria will die within a few hours on the copper surface. Even tubs with a weathered, antique finish, such as the Sierra Copper Arlington Tub SC-ARL-66 possess the same antibacterial qualities.
5. 16 Gauge Copper is recommended – The Lower The Number, The Better
The gauge on a piece of metal, 14 in the case of the Essex 66R SC-ESX-66R tub by Sierra Copper, indicates how many times it has been pressed between rollers to thin it. The higher the number, the thinner the metal is. Most of the tubs from Sierra Copper are 15, which is a thick, solid, quality weight. Any thinner than 16, and the copper, which is a naturally malleable material, could warp over time.
6. Pure, Not Recycled Copper
Many of the products thought of as being made of copper actually come from recycled sources. Pipes, pots, pans, even pennies are combined with alloys, which is fine for most applications, but can reduce or impair many of the beneficial qualities of copper, including reducing their timeless, luminous beauty – and their longevity. It's definitely worth asking the dealer or the manufacturer to make sure what exactly it is made of. Some copper tubs, such as the Medicis 0711 Copper Tub from Herbeau, made with pure copper plating fused with pewter or brass, unless one specifies that solid copper is preferred – which can be incredibly beautiful, but may lack many of the desirable qualities of copper.
7. Welded , Not Soldered
In a quality brand, this isn't something one should even encounter, but it is important to make sure the tub has welded seams rather than soldered ones. Soldering is the significantly weaker of the two methods of joining together sheets of metal, and because it's typically done with a different metal, rather than blending with the tub's living finish, a soldered seam will blacken and become prominent. The Providence tub SC-PVT by Sierra Copper, for example, has a perfect copper weld construction.
8. A Tub To Be Happy With In 20 Years
Any luxury bathtub is a big, long-term investment, but a copper tub is especially so. Ones that echo the Victorian/Old West tub designs, such as the SC-ESX-72 Essex 72 copper tub by Sierra Copper work especially well, because they look like they could have been around a hundred years already. Cutting edge, modern copper tubs can be great, too, but one has to make sure that the look will really be enjoyed with for a long time as opposed to catering toward current trends, because that tub will definitely outlast them.
HomeThangs.com is not only a home improvement superstore, it also provides expert design tips and a comprehensive shopping guide, taking the ideas from professional interior designers, and offering tips to the consumers on how to pick the products to best suit their needs.