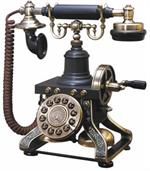 (PRWEB) April 30, 2012
Luxury home decor retailer WorldToHome.com has expanded its antique telephones category with several new models of antique reproduction telephones for sale. These telephones are reproduction phones designed after old fashioned phones from the early 1900's. From metal to porcelain to wood or plastic, there are a variety of models covering different eras. World To Home's antique phones for sale are made from high quality materials with intricate details. The phones have rotary dialing style but are push button to make it easier to dial. Some models even have a felted cord which was used on some old models. Antique replica telephones bring a nostalgic decor item to any room or setting. From the average person to an antique phone collector, World To Home's vintage reproduction phones are appreciated for their accurate reproduction of classic phones. And all of World To Home's antique telephones for sale are fully functional working phones. Antique phones are the perfect unique Fathers Day gift and WorldToHome.com has the largest selection to select the perfect gift for anyone.
Of the new models added there are new retro antique wall phones, including red, black and silver hanging retro wall phones and 1950's classic pay phones, both of which are reproductions of the real phones. Included in the retro vintage wall phones category is also a kitchen wooden wall telephone with a drawer and key-hook.
New antique wooden telephones have also been added to the wooden antique telephones category. These wooden phones combine elegant wood with metal accents to create an elegant piece that is both functional and decorative. World To Home's antique wooden phones are popular in the darker wood colors and there is a model with a lighter wood color as well. The years of each antique wood phone are given and include, 1894, 1903, 1907, and 1911 antique wood telephones.
Two new replica antique candlestick phones for sale have been added to the candlestick phones category which date to 1920's and are offered in a black or brushed chrome finish. Antique candlestick telephones are very popular as they were one of the first types of telephones introduced in the 1890's and are portrayed in many old movies or documentaries.
About World To Home.com:
WorldToHome.com is the premier retailer of fine luxury home decor accents, accessories and furniture. With thousands of unique home decor accessories, World To Home brings the worlds home decor products to your doorstep. Featured products include Mova Globe, lighted branches, reproduction antique phones for sale, metal wine bottle wine caddies, birdhouse mansions, and more. For more information visit WorldToHome.com.