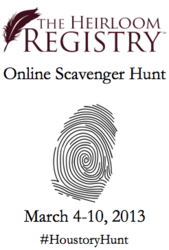 "What's not to love about a grown-up scavenger hunt focused on celebrating, researching and preserving heirlooms and antiques?" -- Antoinette Rahn, Antique Trader editor
Ferndale, Wash. (PRWEB) February 27, 2013
The Heirloom Registry Scavenger Hunt, running from March 4-10, will feature more than $500 in prizes. The latest announced giveaways include two popular antique guides from Antique Trader, and a compact disc packed with 2012 issues of Family Tree Magazine.
Antique Trader magazine has contributed two of their most popular publications – the "Antique Trader Antiques & Collectibles Price Guide 2013" and the "Warman's Antiques & Collectibles 2014" – while Family Tree Magazine will be offering up their "Family Tree Magazine 2012 Annual CD."
"These are great prizes – and resources – for anyone interested in family heirlooms, antiques or family history," said Dan Hiestand, Houstory marketing director. "They are two leaders in their respective industries, and we are proud to partner with them both on the scavenger hunt."
The mission of The Heirloom Registry is an important one for family historians and genealogists said Diane Haddad, managing editor with Family Tree Magazine.
"One of our goals at Family Tree Magazine and Family Tree University is to help people care for their family heirlooms and share the stories behind them with loved ones," Haddad said. "We hope being part of the Heirloom Registry Scavenger Hunt will inspire family historians to preserve information about those treasured objects."
Antoinette Rahn, Antique Trader editor, said her magazine is excited to be involved with the hunt.
"We are thrilled to be participating in this special event," Rahn said. "What's not to love about a grown-up scavenger hunt focused on celebrating, researching and preserving heirlooms and antiques? It's an honor for us to be one of the 'stops' in this adventure, which includes so many companies we admire for their devotion to helping people learn from and commemorate the history of their own lives."
About Antique Trader
Antique Trader, a magazine published 26 times per year in Iola, Wis., has served the antiques and collectibles community since 1957. Antique Trader magazine has a weekly circulation of more than 50,000 readers and more than 3,000 unique daily visitors to its Web site – which houses a free archive of more than 7,500 articles about antiques and collectibles – and serves up more than 1 million page views every year. The publication also has active Facebook, Twitter and Pinterest platforms reaching nearly 22,000 fans and followers, and its blog has been rated one of the most widely read on antiques and collectibles. For more information, visit http://www.antiquetrader.com/
About Family Tree Magazine
Family Tree Magazine is part of the Genealogy Community at F+W Media, Inc. , which also encompasses Family Tree University online courses and webinars, genealogy books and the http://www.shopfamilytree.com/ online store. These publications and products are devoted to providing engaging, easy-to-understand instruction that makes genealogy a hobby anyone can do.
About The Heirloom Registry
The Heirloom Registry is a new service from Houstory. Record a family heirloom's history in The Heirloom Registry, and its story travels with it. Always. Inexpensive, simple: Tag heirlooms with Registry IDs, and share stories in words and pictures at heirloomregistry.com. Registered stories are permanently accessible to future owners.
###