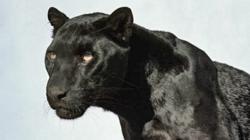 We were preparing for the opening of the first Swinderby event back in May 2010 when I saw what looked like a huge black cat walking through the event site
(PRWEB UK) 3 May 2011
You only need to switch on the television to understand why antiques fairs are achieving resurgence in the UK. With programmes such as Kirstie's Homemade Homes and Cracking Antiques gracing our screens on a daily basis, a younger audience has started to appreciate the appeal of quality antique goods. However, for a couple of antiques fairs in the East Midlands, a younger crowd is not the only new addition to the events, following a number of sightings of a large black cat.
The large black cat was originally spotted last year at RAF Swinderby near Newark - home to the Swinderby Antiques & Collectors Fair, organised by International Antiques & Collectors Fairs Ltd (IACF). Robert Thomas, Managing Director of IACF, made the initial sighting – much to the amusement of his colleagues: "We were preparing for the opening of the first Swinderby event back in May 2010 when I saw what looked like a huge black cat walking through the event site", said Robert. "I was shocked – this wasn't exactly your common house pet! I told the team I was working with, and received blank expressions, followed by copious amounts of laughter."
Robert received the last laugh however, when just months later at the event in September, three members of the team experienced their own sighting. "They were travelling up to the site to set up the event when they spotted the large black animal moving across the airfield" continued Robert "And this was just hours before the Swinderby antiques fair was due to open."
The latest sighting occurred earlier this month - but some 15 miles down the road at the Newark and Nottinghamshire Showground, venue of Europe's largest antiques event, the Newark International Antiques & Collectors Fair. This time it was a member of the security team for G4S that spotted the elusive black animal. Robert explains: "An announcement came over the radio during the event that a large black cat could be seen walking across the field opposite the fair. It seems the animal appreciates the finer things in life – antiques in particular."
With three sightings of the animal in less than a year, the 'big black cat' is becoming a regular at IACF's East Midlands events. "It may not be the usual kind of visitor to one of our antiques fairs", said Robert, "but it keeps being seen nevertheless! I half expect to spot it our Ardingly fair – but being in West Sussex near Gatwick; I think this would be pushing it a little."
To experience for yourself what the big black cat finds so appealing about IACF's events, visit the Swinderby Antiques & Collectors Fair this May 16th or the Newark International Antiques & Collectors Fair on June 9th and 10th.
For more information on all of IACF's events, including opening times and admission details, please visit http://www.iacf.co.uk.
# # #