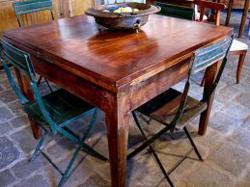 Antique Tuscan farmhouse tables are perfect for the smaller spaces that we have here in San Francisco.
San Francisco, CA (Vocus/PRWEB) May 05, 2011
In Italy, the kitchen table is the center of home life. It is where homemade pasta is rolled out according to Nonna's recipe, where little details of everyday life are shared while preparing a meal, and of course, where unhurried family dinners are served regularly. The owners of Fatto a Mano, who sells antique furniture in San Francisco, are discovering that Tuscan farmhouse tables are in high demand by city dwellers. Now is the best time to shop for unique antique furniture at Fatto a Mano with all furniture including their wide selection of Tuscan farmhouse tables 15% to 30% off, ending on Sunday May 8.
"Antique Tuscan farmhouse tables are perfect for the smaller spaces that we have here in San Francisco," says Heather Dempsey, Fatto a Mano co-owner. "Farmhouse tables are multi-taskers – great for work, food prep, game night, and of course, dinner parties. These tables work with any décor and their rustic textures add warmth and character to any home."
Many Tuscan farmhouse tables are small enough to fit into small spaces, yet can easily extend for large get-togethers. Built to last, their sturdy structure will hold up to anything from food preparation to lively gatherings.
"We find antique farmhouse tables in Tuscany of all sizes and styles to suit everyone's taste," says Massimo Mallamace, Fatto a Mano co-owner. "I love to think about the stories that these tables hold and how they will witness a new family's history here in San Francisco."
For more information about the San Francisco home furnishings store Fatto a Mano's, call them at (415) 830-3040, view them on the web at http://www.sffattoamano.com, or visit their store at 1800 Union Street at Octavia in San Francisco. Store hours are Tuesday through Sunday, 10:30 am to 7pm.
About Fatto a Mano
Fatto a Mano celebrates Italian style and lifestyle, offering handmade (fatto a mano) stylish Italian furniture in San Francisco, as well as gourmet Italian food and fine Italian personal care products and offers San Francisco gift registry – all that one needs to live "la dolce vita."
Fatto a Mano is owned by husband and wife team, Massimo Mallamace and Heather Dempsey. Heather, an American, and Massimo, an Italian, met in Florence many years ago. In 2008, Dempsey and Mallamace managed a one million dollar remodel on the Dempsey's farmhouse in Chianti (view the finished product at chiantivacation.com and learn how to experience this beautiful property). At Fatto a Mano, they keep it in the "famiglia" – Dempsey's mother Jan makes one-of-a-kind jewelry and her 88-year-old Grandma Alice loves to sell her collectible treasures.
###