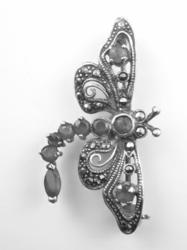 Every piece of antique and vintage jewelry has a story that can be relived each time the piece is worn.
Atlanta, GA (PRWEB) April 30, 2012
Ten years ago Topazery.com was born. To celebrate its first decade in existence, the online antique jewelry boutique is offering special pricing on select antique engagement rings, wedding rings and other jewelry items in its inventory. This is the first time Topazery Jewelry has ever put its collection on sale, and these special prices are available only for a limited time.
When Topazery.com made its Web debut in late 2002, the jewelry industry as a whole was in flux. The previous summer, "National Jeweler" had reported that "the increase in jewelry sales enjoyed for most of the 1990s came to an abrupt end in 2001, as overall sales fell approximately three percent to $41.6 billion." Although the jewelry industry analyst cited in the article insisted that the slowdown was "just a small bump in the road jewelers must tolerate before enjoying larger profits for the remainder of the decade," no one could have predicted the longstanding recession that would soon take hold.
By 2010, however, the jewelry industry appeared to be recovering. That spring, "Forbes" ran an article titled "Consumers' Perceptions Are Driving Jewelry Sales." Therein, one economic expert recommended, "Personally, instead of buying these [jewelry] stocks I would buy a high-end diamond. Actually that piece of 'ice' has outperformed Tiffany's stock over the last decade." And by last year at this time, Investor's Business Daily was declaring that "the nation's jewelers enjoyed a 'boom year' in 2011."
Despite those ups and downs, the antique jewelry boutique Topazery has stayed the course, enjoying continued sales success even when the rest of the industry was in a downward spiral. Founder Jan Walden attributes the company's impenetrability to several factors, not the least of which was her decision, from the outset, to remain solely an online jewelry shopping destination.
"Some of my friends ask me when will I open an actual storefront, and the answer is probably never," she explains. "My online jewelry boutique is open 24/7 for my customers' convenience. As a result, they can shop anywhere, any time without the sales pressure they encounter at other retail establishments." And time and time again that pressure-free shopping experience has led to a closed sale when the timing and the jewelry piece were just right.
The fact that Topazery Jewelry specializes in vintage and antique engagement rings, wedding bands, brooches, necklaces, bracelets and earrings certainly hasn't hurt business either. "Every special piece of jewelry has a story attached that can be relived each time it is worn," Walden points out. "I like to think that the antique jewelry I sell on my website is leading to many special moments."
And to help even more individuals create such unforgettable moments, Topazery Jewelry is marking its 10-year anniversary with a sale. A large selection of its vintage and antique jewelry pieces is currently marked down to special low prices to make memory-making even more affordable.
For more information on the story behind any Topazery antique or vintage jewelry item, contact Jan Walden at (678) 528-8901. To see all the engagement rings, wedding bands, necklaces, brooches, bracelets and earrings the company has to offer at special low prices, visit Topazery Jewelry online at Topazery.com