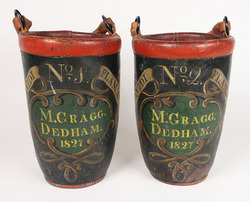 We are very pleased about our partnership with Grogan & Company
Atlanta, GA (PRWEB) July 3, 2008
WorthPoint Corporation, the premier website for art, antiques, and collectibles, announced today that Grogan & Company Fine Art Auctioneers and Appraisers has selected WorthPoint as a data publishing partner. Under the new agreement, Grogan & Company will provide WorthPoint with upcoming and historical auction data to be published on the WorthPoint web site. With information provided by Grogan & Company, WorthPoint is now able to provide more comprehensive data than ever.
"We are very pleased about our partnership with Grogan & Company," said Will Seippel, CEO and Chairman of WorthPoint. "With this new relationship, we add the sales of fine art, decorative arts, silver, and antiques to our database, from the experts at Grogan's. No one is more knowledgeable on the subject of oriental rugs than they are, and WorthPoint is proud to include Grogan's records in its data collection."
WorthPoint is a Web 2.0-based data and media company. WorthPoint's web site (http://www.worthpoint.com) offers a vast database of sales records on art, antiques and collectibles and enables members to contact other collectors interested in buying, selling or swapping stories. It helps collectors share their insights, knowledge and build collecting communities. WorthPoint fills an information void for these collectors by helping them understand the history and worth of their items and provides expert advice on how to preserve these items. WorthPoint also serves as a front end, to monetize them, whether this is for its own web site or at its partner auction houses or eBay or other online sites.
Grogan & Company, located just outside Boston, is one of the country's premier regional auction houses. During its 20-year history, the firm has held over 100 auctions and sold over 100 million dollars of fine art, antiques, oriental rugs, silver and jewelry. Michael B. Grogan is an expert featured on the Antique Roadshow. His first specialty was oriental rugs and he rose to Vice President at Sotheby's before starting Grogan & Company in 1987.
http://www.groganco.com
###