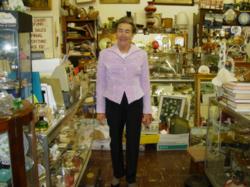 With over 25,000 square feet of merchandise in three locations" and over 54 years in business we're sure to have everything you're looking for.
Alameda, CA (Vocus/PRWEB) June 25, 2011
Small businesses come and small businesses go. For owners of these businesses, this is the sad reality. But the ones that do their jobs right, give their customers something they love and the ones truly committed to their craft can become icons of the community and that is the case with Pauline's Antiques.
Located in Alameda, Pauline's Antiques is an institution on the area as is its owner, Eunice "Pauline" Kelley. For 54 years, she has run her business of rare and beautiful antiques from all cross the globe.
The store, located at 1427 Park Street, seemingly has a deal to be had at every turn. Items customers remember from their youth, hard-to-find items and things that just have to be seen to believe line the shelves of the store.
"Whatever you need we probably have right here," said Pauline Kelley of Pauline's Antiques. "With over 25,000 square feet of merchandise in three locations and over 54 years in business we're sure to have everything you're looking for. And if by chance we do not, we probably can tell you where to find it! We carry Victorian Era through the 1970's for your shopping pleasure."
The store was opened by Pauline and her late husband in 1957. The couple accumulated many different items through the years and decided to sell the stuff to get rid of it and the idea of the store was born.
Now, 54 years later the idea is as popular as it was when "Leave It To Beaver" ruled the television airwaves. A customer will be amazed at the amount of items on display. One of the reasons that Pauline's Antiques continues to thrive is that people love to see, hold in their hands and buy items from their childhoods and years past to remember life as it once was. Others, born more recently, love to look at the artifacts of a time gone by and marvel at the old clothes and wondrous antiques.
Local television legend, Bob MacKenzie made Pauline's Antiques a regular stop to host his Christmastime broadcasts for many years. The store is not just a place of commerce within Alameda, it is a meeting place. Many customers come in on a weekly, or daily, basis to chat it up with their neighbors and soak in the friendly and historic atmosphere.
The store has also received several awards over the years such as "Best of the Bay" and "Best of Alameda." Pauline, herself has been involved in the community and has received an Honorary Lifetime Membership in the Alameda Chamber of Commerce and was named the Member of the Year by Park Street Business Association.
She has been busy with several organizations, such as the Alameda Girls Club (now known as Girls, Inc.) and has always given donations to local schools and charities.
So head on in to Pauline's Antiques and see legendary items and visit with a legendary lady.
For more information, contact the store at (510) 523-9941 or visit them on the web at http://www.paulinesantiques.com/.
About Pauline's Antiques
Pauline's Antiques provides the finest antiques in Alameda. They can provide the following services: appraisals, consignment, estate purchases, estate sales and prop rentals. They are open from Tuesday through Saturday 10 a.m. to 5 p.m. and Sunday from noon to 4 p.m.
###