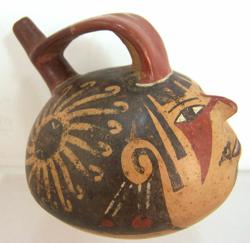 To share this collection with the world and make it available for individual ownership is a privilege
Eastern Shore, DE (PRWEB) March 15, 2012
Estate Auctions Inc. is pleased to announce a very rare lot of outstanding pottery and textiles with individual pieces possibly dating back to 800 BC. Primarily from the Nazca (100 to 800 C.E.) and Paracas (800 B.C.E. to 100 B.C.E.) cultures, these artifacts are in amazing condition. Individual pieces, such as these pop up for sale from time to time, but to have a collection all selling at one time, each starting at only 99 cents in a no reserve auction is unheard of. The pottery consists of figural vessels, as well as, polychrome decorated pieces. The textiles range from the smallest piece, a medicine pouch, to a High Priest's scarf to the largest piece, a complete poncho.
"To be able to share this collection with the world and make it available for individual ownership is a privilege for Marie and I. We are often surprised with unusual antiques and rare consignments but I have to say this is one of the finest collections of Pre-Columbian pottery and textiles we have ever handled. After 14 years of selling on eBay we have had several things to brag about but I'm thinking this may top the list for a while." says Norb Novocin, Owner of Estate Auctions Inc.
The Novocin's have developed a loyal eBay clientele over the years and continue to communicate with thousands of previous buyers with their bi-weekly auction updates and various social networks. Their recent book Getting Sold On Ebay has received stellar reviews and is receiving national attention. They receive consignments from all over the country and have recently expanded their list of promotional services. "We pride ourselves in providing a very accurate description, detailed research, great photos and excellent customer service. With the addition of our video studio we can now provide amazing descriptive videos for some of the better items we list on eBay. We edit the video and then post it to our YouTube channel. We then promote the auctions throughout the week on Pinterest, Facebook and to our 26,000 plus followers on Twitter. Our consigners see the results and our buyers are thrilled too." says Marie Novocin
To learn more about the Novocins and Estate Auctions, Inc. visit them on eBay, user ID EstateAuctionsInc or follow them on Twitter @KnowsEbay. For consigning information call 1-800-573-3508. You can find their new book Getting Sold On Ebay, A Treasure Hunters Guide To Making Money at http://GettingSoldOnEbay.com or Amazon.com.