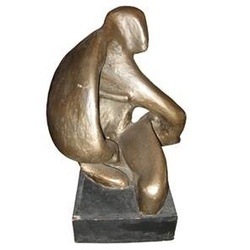 New York, NY (PRWEB) October 16, 2007
Just emerging from beta mode, Bond & Bowery (http://www.bondandbowery.com ) -- the visionary new online address for antiques and fine art -- is filling its virtual showrooms with unique pieces from dealers around the globe.
Bond & Bowery integrates the latest technology with decades of best practices, offering dealers and buyers alike an unprecedented marketplace for the world's finest antiques and fine art.
Among the distinctive offerings this week:
Frederick Kiesler Sculpture #313
Artist: Frederick Kiesler
Country: USA
Work Date/Period: 1956
Description: Frederick Kiesler plaster sculpture of biomorphic seated figure, multiple gallery/exhibition labels. On original wooden stand made of fruit boxes.
Signature/Other Markings: Sculpture signed on the foot in script
Medium: Plaster, paint, wood (fruit boxes)
Condition: Excellent, untouched
Number of items: 1
Provenance: World House Galleries, 987 Madison Ave small exhibition label #313? on the front Large white label on the reverse typed "Fredrick Kiesler #313" Gallery label on bottom of wooden fruit boxes.
Biedermeier Burl Elm Work/Side Table
Period/Style: Biedermeier
Country: Austria
Date: 1820
Description: Fine Biedermeier burl elm occasional table with fitted drawer and ebonized banding
Dimensions: 20"W X 15.5"D X 31"H
50.75cm W X 39.25cm D X 78.75cm H
Materials: Burl Elm
Condition: Excellent
Number of items: 1
Six Halophane Industrial Lights
Country: USA
Date: c1930
Description: A set of six original American aluminum halophane industrial ceiling lights with glass reflector
Dimensions: 18"Dia X 31"H
45.75cm Dia X 78.75cm H
Materials: Aluminum, Glass
Condition: Excellent Original Condition
Number of items: 6
Set of Eight Paul Frankl Dining Chairs
Creator: Paul Frankl
Period/Style: Mid Century Modern
Country: USA
Date: 1940s
Description: Set of eight mahogany dining chairs with dark lacquer finish; wool upholstery. Set includes two armchairs and six side chairs. Entire dining suite available, including dining table with two leaves, sideboard, buffet and console.
Dimensions: 19.75"W X 22"D X 33"H
50.25cm W X 56cm D X 83.75cm H
Materials: Wood and Fabric
Condition: Very Good
Number of items: 8
To learn more, please contact Zachary Hastings Hooper at 202.862.4355 or Caroline Hemingway at 212.255.8455.
About Bond & Bowery
With the national passion for home design and redesign fueling the antique furniture and fine art industries, Bond & Bowery fills the need for a one-stop online destination offering the best pieces and art works from all periods and styles. Bond & Bowery is the brainchild of antiques dealers George Evans and Elliot Spaisman and seasoned marketer and business executive Ben Spaisman, with backing from a group of industry professionals.
Contact:
Zachary Hastings Hooper
The Rosen Group
202.862.4355
zachary @ rosengrouppr.com
Caroline Hemingway
The Rosen Group
212.255.8455
caroline @ rosengrouppr.com
# # #