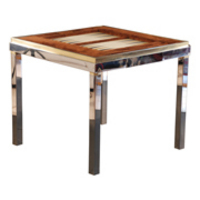 New York, NY (PRWEB) January 15, 2008
Bond & Bowery (http://www.bondandbowery.com) – the visionary new online address for antiques and fine art – enters 2008 with virtual showrooms brimming with distinctive antiques and fine art from around the globe.
Bond & Bowery integrates the latest technology with decades of best practices, offering dealers and buyers alike an unprecedented marketplace for the world's finest antiques and fine art.
Among this week's highlights:
Rare Game Table by Willy Rizzo
Creator: Willy Rizzo
Period/Style: Modern
Country: Italy
Date: 1970
Description: A rare game table signed by Willy Rizzo from his brief and lauded 10-year career as a furniture designer. Taking a break from his successful career as a photographer, Willy Rizzo brought the full force of his own "Dolce Vita" lifestyle to furniture design.
Dimensions:
33"W X 29"H
83.75cm W X 73.75cm H
Materials: Steel, brass, wool felt, leather
Condition: Excellent original condition signed by Willy Rizzo both on the base of one leg and embossed on the leather game surface.
Number of items: 1
Square Arts & Crafts Copper Lantern
Period/Style: Arts & Crafts
Country: England
Date: c1890
Description: Late 19th Century Arts and Crafts Verdigris square Shaped Copper Lantern.
Dimensions:
51.5"W X 15.5"D X 27.5"H
130.75cm W X 39.25cm D X 69.75cm H
Materials: Copper, Glass
Condition: Very Good
Number of items: 1
Navajo YEI Rug
Country: American
Work Date/Period: circa 1900
Description: Woven rug all hand made.
Dimensions:
48"W X 7'0"H
122cm W X 213.25cm H
Medium: Woven wool
Condition: Excellent original condition
Number of items: 1
Pair of Meyer, Gunther & Martini settees
Creator: Meyer, Gunther & Martini
Period/Style: Louis XVI
Country: USA
Date: C. 1960
Description: Pair of late 50's, early 60's settees from Meyer, Gunther & Martini, NYC. These settees are hand-carved fruitwood with great detail in the style of Louis XVI. The silk upholstery is in impeccable condition, with beautiful detail and craftsmanship. The down cushions are as fresh as new.
Dimensions:
42"W X 26"D X 36"H
106.75cm W X 66cm D X 91.5cm H
Materials: fruitwood, silk and down
Condition: excellent, with just some very superficial wear to the edges of the wood, the silk is impeccable. The frames are very solid, with no give at all.
Number of items: 2
To learn more, please contact Zachary Hastings Hooper at 202.862.4355 or Caroline Hemingway at 212.255.8455.
Contact:
Zachary Hastings Hooper
The Rosen Group
202.862.4355
zachary(at)rosengrouppr.com
Caroline Hemingway
The Rosen Group
212.255.8455
caroline(at)rosengrouppr.com
###