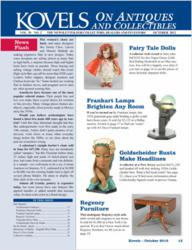 Cleveland, OH (PRWEB) October 01, 2012
The October 2012 "Kovels on Antiques and Collectibles" newsletter is now available in print and online.
Cinderella, a doll by Madame Alexander, sold for $1,017, and was the top doll in a "Kovels on Antiques and Collectibles" sale report—part of the just-published October 2012 issue. Over 100 dolls dressed as characters from fairy tales or storybooks were in the sale. Not all of the dolls were high-priced—dolls sold for as little as $11. Collectors look for anything Frankart and Kovels' October newsletter has pictures and descriptions of 1930s Frankart lamps that auctioned for higher than estimates. The lamps, with cast-metal female nudes and glass globes or shades, sold for about $600 to over $2,000. Regency furniture turned up at more than one summer auction. Pieces were varied—chairs, tables, cabinets, bookcases—and prices were low—a few hundred to a few thousand dollars less than modern reproductions. Photos, descriptions and prices are in "Kovels' on Antiques and Collectibles" October newsletter.
Priced architectural elements from old houses—fan windows, fireplace mantels, and doors—are also featured, as well as mid-century Goldscheider ceramic busts with curly hair and enigmatic faces. Kovels' October newsletter also reports on a large group of Victorian silver-plated serving dishes, and October's Dictionary of Marks shows marks found on Victorian English silver. Kim Kovel went "on the road" antique shopping in Spain. See some of her favorite markets and finds in Madrid and Barcelona. Regular monthly features are here, too—the popular illustrated Collector's Gallery has answers to readers' questions, and the Buyer's Price Guide lists current prices of dozens of antiques and collectibles.
With its mixture of expert advice and reports on what's hot in the market, Kovels' newsletter has something to offer for both beginning and experienced collectors. "Kovels on Antiques and Collectibles" is available as a print subscription or as a digital downloadable version that is part of the Kovels.com Premium subscription.
Terry Kovel, well-known columnist and author, gives information and advice on collecting. She will discuss antiques and collectibles topics with accredited media. Photographs are available. Contact pr@kovels.com.
About Kovels.com
Kovels.com, the online portal for Kovels' Antiques, provides collectors and researchers with up-to-date and accurate information on antiques and collectibles. Kovels' Antiques was founded in 1953 by Terry Kovel and her late husband, Ralph. Since then, Kovels' Antiques has continually published some of America's most popular books and articles about antiques, including the best-selling "Kovels' Antiques and Collectibles Price Guide," now in its 45th edition. The Kovels' website, online since 1998, and free weekly email, "Kovels Komments," give readers a bird's-eye view of the market through up-to-date news, auction reports, an online Price Guide, a Marks Dictionary, readers' questions with Kovels' answers and much more.
KOVELS' ANTIQUES & COLLECTIBLES PRICE GUIDE, 2013
Contact Information:
Liz Lillis
216.752.2252
pr(at)kovels(dot)com