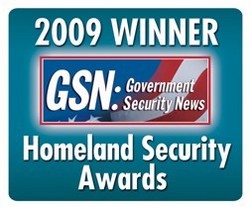 Anti-Virus is Not Enough! [Symantec]
Chantilly, VA (PRWEB) May 12, 2010
Blue Ridge Networks Inc., an information security technology innovator for over 15 years, today announced that the U.S. Patent and Trademark Office awarded it U.S Patent No. 7,712,143, which covers 20 claims defining a security framework for building next generation anti-malware, data leak prevention, and information assurance solutions. Trusted enclaves represent an essential method for achieving practical, effective protection from even the most sophisticated zero day malware attacks.
According to a recent study by Cyveillance, enterprises with up-to-date anti-virus/spyware stand on average only a 25% chance of detecting today's malware attacks. This is because today's cyber criminals are armed with tools that automate the creation of new malware variants on-the-fly to ensure no signature yet exists to detect their attack code. Further, they retire each variant within 48 hours to make it even more difficult for vendors to develop detection signatures.
Most vendors have supplemented their products with host intrusion prevention features, often including them for free within their enterprise product suites. However, they are so complex and disruptive that enterprise and mainstream consumers underutilize if not entirely disable them.
"AppGuard has been using trusted enclaves technology for two years", says John Higginbotham, recently appointed senior advisor to the Blue Ridge board of directors. "It provides easy-to-use protection that consumers and the enterprise need to combat the worst that cyber criminals can deliver, without the complexity, distractions, and empty promises of major AntiVirus vendors. In my book, that makes AppGuard a game-changer!"
Trusted enclaves technology in AppGuard protects computers without signatures or any other blacklisting technology. Instead of distrusting the nearly infinite supply of files and other inputs consumed by PCs, as traditional anti-virus/spyware products do, trusted enclaves distrusts the software applications on the PCs. It places at-risk applications under guard, enforcing compartments where they may run unencumbered, but cannot cross. Likewise, it dynamically compartmentalizes any executables spawned (ActiveX, helper applications, etc.) by the guarded software. This blocks many attack vectors and is far more manageable than attempting to blacklist a nearly infinite spectrum of malware. And, it avoids the pitfalls of distinguishing good application behavior from bad. Such guessing, available in many anti-virus/spyware suites but seldom used, confounds and overwhelms administrators and disrupts end-users with false positives. Trusted enclaves blocks other attack vectors by enforcing compartments whereby unguarded software and scripts cannot run at all, which suppresses drive-by download attacks, for example.
In addition to preventing advanced persistent threats (APT) from infesting a PC, trusted enclaves also compartmentalizes a PC user's content. The AppGuard "Privacy Mode" feature prevents attacked software applications from stealing or destroying content in designated folders. Another more recent trusted enclaves implementation is designed to provide an additional layer of protection for sensitive data, such as cardholder data in retailer point of sales machines. It limits access of sensitive data to only designated software, preventing even a compromised PC from revealing its secrets. For example, neither Windows Explorer running with local admin rights nor any other software can gain access to this data enclave.
"The bottom line is simple. The trusted enclaves technology in AppGuard elevates zero day malware protection from an average of 25% to nearly 100% for a fraction of the effort of other advanced protection products. And there is more to come! Blue Ridge engineers are very excited about other trusted enclaves implementations on the horizon. Our vision calls for additional advances in anti-malware, data leak prevention, and information assurance," says Mike Fumai, CEO, Blue Ridge Networks. "For example, another of the trusted enclave inventions involves a hardware based mechanism that thwarts the increasingly sophisticated attacks that disable security software. This will further enhance the position Blue Ridge endpoint security solutions as the most incorruptible in the industry."
About Blue Ridge:
Develops and delivers computer and network security products and managed services. For over 15 years, Blue Ridge has supported high-value cyber targets across the globe in every industry, including financial services, retail, healthcare, energy, technology, and government. Blue Ridge is a security pure-play, dedicated to extending our track record of delivering innovative security solutions. Our vision is to: make security technologies that reduce enterprise IT costs; let organizations safely reap the economic benefits of cloud computing; make enterprise and non-enterprise endpoints safe computing platforms; reduce risks to organizations from their employees and partners; and to interconnect enterprise facilities, personnel, and partners with private networks that are simple, agile, reliable, and low cost.
About AppGuard:
AppGuard is security software that protects computers from the malware attacks that traditional anti-virus/spyware products cannot. It increases the protection of a PC with any anti-virus/spyware product from an average of 25% to over 90%. AppGuard is available as a centrally managed enterprise solution as well as a standalone consumer product. Blue Ridge also offers this protection in the form of a managed security service.
###