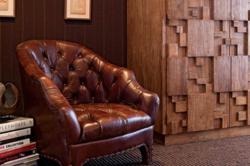 Design should reflect the client's personality and history. It is not my home and it should not look like me.
San Francisco, CA (PRWEB) August 31, 2012
San Francisco and Lisbon based interior designer Antonio Martins most recent San Francisco residential design project is featured in the July | August 2012 issue of California Home and Design. Martins transforms a modern architectural gem in San Francisco's Noe Valley into a stylish and comfortable home using warm woods and soothing fabrics while still retaining the buildings modern sensibilities.
The project, a third with this client, was a home the client bought because for the existing great bones it possessed. The previous owners, a recognized husband and wife architectural team, had built it for themselves. Structurally there wasn't much that needed to change. However, he wanted a home, not a showcase, which is where Martins came in. Since Martins had an ongoing relationship with the client from their previous design projects together, and understood the client's taste and design preferences, it was easy to pick up the ball and run with it.
The outcome is spectacular. The warm woods, smooth surfaces and subdued color palette keep it inviting while the metals, marble, light and open floor plan keep it airy and modern.
As Martins says "Design should reflect the client's personality and history. It is not my home and it should not look like me. I learn as much as I can about the client, their history, their likes and dislikes, and from that, I use my aesthetics to create an environment that tells a story."
What a story it is. Welcome home indeed!
About Antonio Martins
Antonio Martins studied hotel management in Switzerland, and worked for 11 years building a successful hotel career in Asia. From hotel operations to hotel design, he has put his mark on some of the finest venues in Hong Kong, Bangkok, Argentina and, most recently Chicago.
Antonio's residential design career began in San Francisco while obtaining a Masters of Fine Arts in Interior Architecture and Design. An artist at heart, Antonio brings an eclectic approach to interior design, with an interesting mix of antiques, modern artwork and contemporary furniture.
His design work has been featured in numerous publications including Décor, Sunset, Casa, San Francisco Chronicle, and Traditional Home. His portfolio of commercial and residential interior design work can be viewed at http://www.antoniomartins.com/home.html .