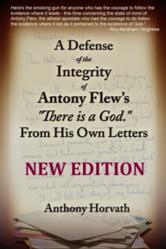 "Here's the smoking gun for anyone who has the courage to follow the evidence where it leads." -- Roy Abraham Varghese
(PRWEB) January 10, 2013
There was a time when Antony Flew was considered the world's top atheist but when he abandoned his atheism, instead of seeing it as a response to the robust evidence for Christianity, his mental state was called into question. Worse, it was asserted that he was manipulated by proponents of Christianity. Christian apologist Anthony Horvath, the Executive Director of the Christian apologetics ministry Athanatos Christian Ministries, had evidence to the contrary: letters written by Flew himself detailing his positions.
These letters were recently released in an ebook titled A Defense of the Integrity of Antony Flew's "There is a God" From His Own Letters. Since, then, however, Horvath was presented with additional information that speaks to both Flew's grasp of the issues and the basis of Flew's conversion away from atheism.
As the co-author of Antony Flew's book, Roy Abraham Varghese, was the one chiefly accused of manipulating Antony Flew. Varghese stridently denied these charges and began collecting evidence to the contrary. Some of this evidence has now been incorporated into Horvath's Ebook.
Included in the new edition is a signed statement by famed theologian Richard Swinburne speaking to the authenticity of Flew's change of mind and an excerpt from an article that Flew wrote challenging Richard Dawkins' materialism, years before anyone had even begun to suggest that Flew's mental state was compromised.
About Horvath's collection of letters, Varghese says, "Here's the smoking gun for anyone who has the courage to follow the evidence where it leads--this time concerning the state of mind of Antony Flew, the atheist apostate who had the courage to do follow the evidence where it led as it pertained to the existence of God."
Anthony Horvath is available for interviews and can be reached at director@athanatosministries.org
The ebook is available for the Kindle and Nook.