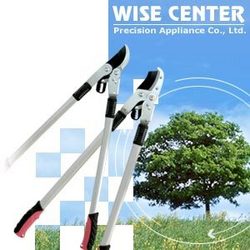 An excellent example of SMEs
Milton Center, OH (PRWEB) May 8, 2008
As a Taiwan high-recommended ODM garden tools manufacturer, Wise Center Precision Appliance Co., Ltd announces its investment plan for production expansion in Vietnam. This significant progress shows Wise Center's strong determination to enhance its high efficiency working process, great quality products and considerate service for customers.
With over 17 years of experience, Wise Center has been a well-recognized brand in Taiwan, with products including loppers, hedge shears, pruning shears, grass shears, pruning saws, shovels, striking tools and ladders. At its groundbreaking ceremony for its Taichung factory in 2003, Wise Center received the special commendation of being "An excellent example of SMEs" from Vice President of R.O.C, Annette Lu. The company also won the National Small and Medium Scale Enterprise Innovation Research Award and the National Business Contribution Award issued by Export Processing Zone Administration, MOEA, R.O.C (Taiwan).
Reaching annual sales of over US$15 million, Wise Center has exported worldwide, to places such as the United States, Canada, EU and Asia. In particular, Wise Center has worked with Corona Clipper, Inc., a famous international supplier for a wide range of gardening tools, pruners and clippers. Corona has many integrated marketing channels and sales networks in North America and Europe, especially many large-scale chain stores: Lowe's, Home Depot and Sears are cooperative partners. Better-known customers of Wise Center include WOLF Garden Tool, SPEAR&JACKSON (S&J) and ALDI. Wise Center has also worked with small-scale companies for professional farm and gardening tools production. All long-standing business relationships show the company's great consistency and reliability in high-volume production.
Having achieved ISO 9001:2000 certification and GS/TUV approval for years, Wise Center keeps a serious attitude toward factory management and the producing process. It owns factories both in Taiwan and China. These factories are well equipped with automatic press machines, heat treatment machines, powder painting and non-stick coating machines, CNC processing machines and grinding machines.
Adjoining Taichung harbor and airport, Wise Center's main factory in Taiwan takes a good advantage of its ideal location, which brings convenience in transportation and delivery. It definitely reduces the time and cost for customers.
Wise Center considers high-quality material play a key element of excellent products, and it insists all carbon steel is well offered by China Steel Company, the largest steel manufacturer in Taiwan. Its high carbon steel and carbon steel alloy materials are imported from Japan and Germany.
Due to serious quality assurance, Wise Center conducts a mature quality control system from IQC, In-Process Quality Control (IPQC), to QA.
Wise Center puts great efforts into product development and know-how creation, and it allocates 10% of annual income to enhance R&D capability. The R&D department implements from formulation, sample making, in-house performance testing, stability testing, to finished products manufacturing.
In addition to a partnership of R&D alliances with China Steel Company, Wise Center has been supported to develop high carbon alloy material and dedicated to high-value added tools invention with advanced technology. Up to present, Wise Center has successfully introduced over 70 products with international patent rights. Most products have ergonomic designs, easy-to-operate functions and lightweight structures, such as New Anvil Lopper With Forged Aluminum Handles, New Leverage Lopper With Telescoping Handles, New Hedge Hedge Shear With Telescoping Handles, PAT. Roller Bypass Lopper With Telescoping Handles and Gear-Chain Transmission Hook Anvil Lopper.
Wise Center's advancement is attributed to its active attitude toward customers. It keeps visiting customers worldwide every year to understand market orientation, customers' needs, and seeks cooperation opportunities in international trade events, including National Hardware Show in Las Vegas and International Hardware Fair in Cologne, Germany.
# # #