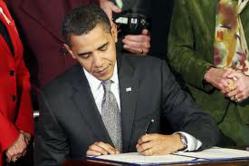 I'm a lefty. Get used to it" Obama tells the audience as he signs his first bill.
San Francisco, CA (Vocus/PRWEB) February 10, 2011
A child who dreams of being President has far better odds if they're a lefty. Leftyslefthanded.com's new research has brought to light an astonishing and diverse group of powerful people, especially political leaders, who are left-handed.
Five out of the last eight U S Presidents (Obama, Clinton, George H. Bush, Gerald Ford, and Ronald Reagan - though he was made to be ambidextrous as a child]), and even all the major candidates in 1992 (George H. Bush, Ross Perot, Bill Clinton), 1996 (Bob Dole, Bill Clinton), and 2008 (John McCain, Obama), have been lefties. Al Gore, who won the popular vote in the United States in 2000 but lost the election to George W. Bush, and was Vice President for 8 years under Bill Clinton, is left-handed as well.
An almost uncanny assemblage of the highest profile current and recent world leaders are left-handed – ranging from Hugo Chavez (President of Venezuela) and Fidel Castro to Benjamin Netanyahu (P. M. of Israel), Felipe Calderon (President of Mexico) and David Cameron (P. M. of Great Britain).
As he signed his first bill, President Obama famously said, "I'm a lefty. Get used to it." Well, maybe we're already used to it.
The ranks of left-handers are increasing as a percentage of the population, a fact perhaps underlying the impressive rise in lefties as world leaders. Yet history includes a roster of its most famous leaders, especially military strategists, who were lefties as well – including Alexander the Great, Julius Caesar, Charlemagne, Napoleon, and Winston Churchill.
Can anyone explain this phenomenon? Though there's no simple answer, two pieces of the puzzle are generally supported throughout the literature. First, lefties just have to try harder. The world is stacked against them –from school desks to scissors, the world is designed to work for the right-handed majority (and in countless ways to be difficult for left-handers). Though left-handed scissors exist, but they're not all that easy to come by, and often not provided in schools. As kids, lefties are called clumsy by their peers, and often have trouble learning to write (and cut and tie their shoes).
Left-handed kids have to be strong to compete - those who excel have overcome far more difficulties than their right-handed peers. While many kids just want to be part of the group, to be accepted and maybe not stand out, lefties do not have that option. They must learn to be comfortable with being different, which can be the basis for great self-confidence.
Secondly, left-handers' brains are physically and neurologically different from right-handers' brains. Certain brain functions, which in right-handers reside only in the left hemisphere, can in lefties vary between the left and the right. Lefty brains have more integration between the two hemispheres, and a better spatial – temporal sense. Many lefties have a built-in ability to plan, to foresee the consequences of physical actions in time and space. This skill is one thing great military and political strategists share – the ability to plan complex campaigns of all types.
Any child who's lucky enough to be a lefty should be pleased at their good fortune – and if they've a yen for politics, they should go for it. At leftyslefthanded.com, as well as at Lefty's stores in Pier 39, San Francisco, and The Marketplace, Downtown Disney, at Walt Disney World Resorts, Lake Buena Vista, FL, left-handed products of all types help to give young lefties confidence, and to make life more comfortable and efficient for lefties of all ages. Lefty's has a large selection of tools to assist left-handers in pursuing their interests. The odds are very good that left-handers may be exceptionally good at something, and even better that they'll have an especially interesting life.
###