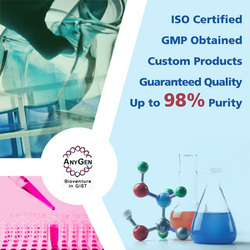 Peptide-based drugs offer the advantage of low toxicity, no complications, low therapeutic costs and high-biological activity
New York, NY (Vocus) November 4, 2010
Korean Biotechnology leader AnyGen is launching its high-level custom-made and catalogue peptides for the first time in the U.S. AnyGen offers the highest purity peptide available (98% vs. 95% for most competitors). The company is expanding its international presence by importing to various global pharmaceutical giants such as Takeda Pharmaceutical R&D center in Japan.
According to Frost & Sullivan Research, there are currently 40 approved peptide-based drugs in use today, approximately 270 peptides in clinical phase testing, and 400 being developed to treat ailments such as allergies, cancer, Alzheimer's, Huntington's, and Parkinson's diseases. Peptide-based therapies tap into the direct hard wiring of human physiology, yielding substantial and far-reaching benefits.
"Peptide-based drugs offer the advantage of low toxicity, no complications, low therapeutic costs and high-biological activity," said Dr. Jae-Il Kim, C.E.O., AnyGen. Peptides have the inherent ability to block and/or enhance signal transfers in the human body. Natural peptides such as insulin, vancomycin, oxytocin, and cyclosporine and synthetically produced ones such as Fuzeon (enfuvirtide) and Integrilin (eptifibatide) are among the approved peptide-based drugs.
Peptides are also one of the leading, most coveted, cosmetic ingredients in the anti-aging skincare markets, proven to stimulate collagen production and prevent its breakdown to keep skin firm and smooth.
AnyGen provides various modifications for custom-made peptides and specializes in difficult and long sequences for peptide synthesis. It uses the highest quality ingredients, from pharmaceutical giants Merck and Bachem, to assure customer satisfaction. In January 2011 AnyGen will become the first Korean peptide manufacturer to obtain GMP (Good Manufacturing Practice) status for its mass production facility.
AnyGen is dedicated to the progress of Biotechnology through consistent research and development. The company obtained two ISO (International Organization of Standardization) certifications (ISO 2001, ISO 14001), and the company was awarded the "INNO-BIZ" award by the Korean government for its innovative products. In 2006, AnyGen successfully completed mass production for pre-clinical and cosmetics peptide.
AnyGen Co., Ltd. was established as the first Bio-Venture company in 2000 by professors at the Gwangju Institute of Science & Technology (GIST). The company focuses on developing new bio drugs and essential materials based on physiologically active peptides, biologically functional materials, and chemical nano materials.
MZI Global is a market entry strategy consultancy firm based in New York City serving international inbound clients entering North America and outbound US companies expanding to global markets. MZI Global¹s Ethnosynergism® network of relationships includes local and foreign governments across 10 + cultures and languages with 1000+ companies. From strategy to implementation, MZI Global is a ³deal maker² focusing on cost-effective market entry on a global scale.
MZI Global¹s clients include public sectors and foreign governments representing some of the leading economies in the world, including ECO - GREEN Asian suppliers across 17 industries such as; cosmetics and beauty supply, food and beverage, furnishings, technology and more.
Through a central contact point, MZI Global enables the U.S. supply chain to deal with one resource who understands U.S. corporate needs, while introducing innovative products from international markets like Korea and Asia. With full support of the SBC Korean exporting agency and its trade association, South Korean companies are becoming trusted partners for U.S. buyers. Hundreds of new South Korean products can be sourced via the MZI Global network. MZI Global is the ultimate resource for South Korean products.
Under the leadership of president and CEO Mira Zivkovich, recipient of the 2007 Ellis Island Medal of Honor, MZI Global puts its international, multicultural marketing expertise to use through strategy development and implementation for US ethnic markets. Learn more at http://www.mziglobal.com.
# # #