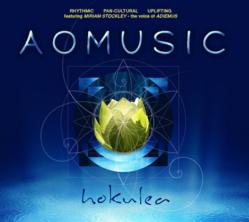 When the choir declares "God Is Here," over the fiery groove, there is surely no doubt something divine is in the mix…
Los Angeles, CA (PRWEB) March 21, 2013
AOMUSIC, celebrated for its rhythmic textures and powerful children's choirs, releases a bold new album, Hokulea, featuring Miriam Stockley in her third turn writing and performing with the group, and now also co-producing. AOMUSIC founder Richard Gannaway also opened the project up to several new artists and collaborators, as well as two new children's choirs from Nepal and Western Ireland. The project launch is timed to coincide with the Vernal Equinox, and features a new promotional video, Kuimba.
Hokulea is the follow up to AOMUSIC's award-winning album …And Love Rages On, which won Zone Music Reporter's 2011 Award for Best World Music Album. Gannaway says it takes about two years to complete an AOMUSIC album, by the time they travel to teach and record all the children and contributors in faraway lands, and, in the process, they have worked out of a half dozen studios. While that may seem daunting, they are driven by their commitment to uplift children through music, which dovetails with the foundation's goals to assist children, and to empower them with skills to improve their futures.
In fact, with this fourth album, AOMUSIC announces the official establishment of its non-profit organization, AO Foundation International, enabling it to focus on serving the needs of underprivileged children on a global scale. The non-profit's short term goal, as phrased by AOMUSIC, is to put under one umbrella some very well-organized and efficient grassroots causes for children. Long term, they strive to bring sustenance and opportunity to a billion underprivileged children around the planet, seeing the children themselves as our vital link to a sustainable future.
Stockley says she's excited that with Hokulea, the group pushes the envelope both musically and visually, a nod to the beautiful visuals synonymous with its name. "The non-profit status has freed us to really share our complete vision, with music, visuals and video in a way that will really strike a chord with people." Specific to the music, Stockley says that she enjoyed pushing her vocals in "Yaka Matai" to be more deeply African than ever before, and considers "Sisi ni Moja" a favorite piece particularly for its level of difficulty.
"I gravitate toward 'Sisi ni Moja' from a musical point of view; the timing is complex, and we worked very, very hard to make it sound simple, which really is the hardest thing to do. I think we succeeded, and that is gratifying in the end," she says, adding "'Kuimba' is different in that it is a big anthem-style track that draws people in, feels good, and is fun to sign along to…they're actually all terrific in various ways!"
Upon reviewing the album, music writer Jonathan Widran wrote, "AOMUSIC gets the drums booming and guitars jangling at the outset of "Kuimba" - a track that beautifully traverses the landscapes of new age and world fusion…The gentle hypnosis continues via flowing, then soaring ethereal voices and light percussion textures on the Swahili language track "Sisi Ni Moja," while "Ha Le" ambles along as an acoustic guitar driven folk song before the tribal rhythms amp up and voices swing and sway in a mix of Polynesian, Zulu, Xhosa, West African, Japanese and Hebrew. After the gracefully symphonic folk/new age influenced, mostly instrumental "Edge Walkers," the group stirs up a fiery jam led by a fanciful Irish jig, dense percussion, ambient synth washes, flutes and trippy angelic harmonies. Although the title of the vibrant, soaring "Yaka Matai" almost sounds like an Eastern title, it actually derives from an exultation in the South African language of Xhosa. When the choir declares "God Is Here," over the fiery groove, there is surely no doubt something divine is in the mix…Hokulea wraps with yet another fanciful linguistic excursion, this time the Hindi language, in which a lush and innocent young female voice invokes the Divine Source in prayer; as God enters, the choir chimes in with a hopeful, solemn plea for the peace to stay and love to manifest."
Gannaway adds that each track was indeed its own journey, and he thinks fans will respond to its bolder ethnic sound. Most notable, he says, is the impressive instrumentation brought to the project by Nadishana, a Siberian multi-instrumentalist he describes as "one of the most versatile and innovative musicians we've met." As for key tracks, Gannaway says he enjoys the mysterious feel of "Edge Walkers" adding "I also like the way Miriam wails on 'Ha Le'...she really went for it and we sensed a bit of her rock background in that one."
AOMUSIC's elegant videos take viewers around the world, with breathtaking glimpses into the hearts of children and the musicians who teach them; one can watch a variety of AOMUSIC music videos and documentaries on the group's official website and on YouTube.com. The official website also offers a series of striking posters showing the AOMUSIC graphic mandalas, and two related books authored by Gannaway.
AOMUSIC albums are available at most retail locations, both traditional and online. Marketing efforts for Hokulea includes retail marketing promotions, international radio promotion (The Creative Service Co.), international publicity (The B Company), and online promotion; in-store play copies and P.O.P. materials are available upon request. AOMUSIC is distributed for wholesale in North America by Burnside Distribution Corp., New Leaf Distributing Co., and, in Europe by Silenzio Music AG.
For review copies or interview requests, please contact Beth Hilton at bethhilton(at)thebcompany(dot)com, or, 310-560-8390.
Video: http://www.aomusic.com/ao/frameset.asp
Label: http://www.arcturiangate.com
Foundation: http://www.aofi.org
EPK: http://www.sonicbids.com/ao3
Facebook: http://www.facebook.com/ao.music.ao
Twitter: @aomusic_ao
LinkedIn: http://www.linkedin.com/in/richardgannaway