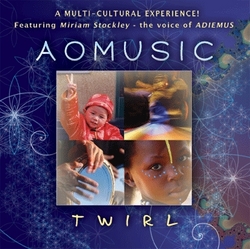 Emotion and passion are what really count. When it comes to music, they are most important to me, and I need to show that in the work I do
Los Angeles, CA (PRWEB) February 17, 2009
AOMUSIC releases a brilliant new production called TWIRL, the follow up to their first album, Grow Wild, released to widespread critical acclaim in 2001. AOMUSIC's passionate primary composers, artists and producers, Richard Gannaway and Jay Oliver have circled the globe expanding their sound and refining their unique musical vision. Miriam Stockley -- the voice in Karl Jenkins' double-platinum selling Adiemus project -- joins film composer/producer Sandeep Chowta and a cast of supporting artists and children's choirs on the exhilarating, uplifting and universally-appealing album, TWIRL. The album, currently #1 Most-Added on CMJ New World Adds Chart, is available from Burnside Distribution Corporation.
Describing the diversity and depth of sound TWIRL presents is both an intriguingly complex and intuitively simple task. This multi-dimensional "music for a new eon" weaves together primal beats, upbeat melodies, lyrics that fuse together a variety of ancient indigenous languages - or freshly-crafted phonetics that don't apply to any particular language at all - and powerful vocal ensembles from all over the world to create a musical dimension that is at once both excitingly exotic and instinctively familiar. Simply put, this universal expression cuts across borders and boundaries to express its message of Unity in a language that speaks to us all - music.
"We first discovered Miriam as the voice of Adiemus on the album 'Songs of Sanctuary,' says AOMUSIC founder Richard Gannaway. "Since that encounter, we've tried to emulate the power & spirit she conveys in the sessions we've had with choral groups over the years, and now, we're happy to say she is one of us. It will be interesting to see where AOMUSIC goes from here, now that Miriam is on board, with her amazing voice and South African influences."
"Emotion and passion are what really count. When it comes to music, they are most important to me, and I need to show that in the work I do," says Miriam Stockley, demonstrating why both her voice and vitality are so harmonious with the energy and vision of AOMUSIC. Miriam is not an artist to be pigeon-holed, a classical star of critical-acclaim she was the voice of Karl Jenkins' multi-million selling Adiemus project but has also worked with such names as Kylie Minogue & Elton John, Tina Turner & Tom Jones, alongside cumulating varied TV and Film credits (Rob Roy, Lord of the Rings, Great Expectations, The Clandestine Marriage).
AOMUSIC is the first collaborative project to feature Stockley since Adiemus, which achieved global notoriety and sold over 2,000,000 CDs after featuring in a Delta Airlines commercial. Having previously used this work as an invocation of the kind of spirit they hoped to create with their refrains, AOMUSIC are thrilled to welcome Miriam to the group as both a uniquely captivating vocalist and inspirational co-composer.
Miriam, meanwhile, is equally as impassioned. "Richard & Jay gave me some great foundations on which to work with this project. They have such immense talent and I sometimes don't think that they even realise it; totally inspirational," says Stockley.
Led by a desire to capture honesty and vibrancy wherever on the globe they can find it, AOMUSIC have travelled extensively in China, Indonesia and in producer/composer Sandeep Chowta's native India. Immersing themselves in local culture and musical traditions - from the multifarious ensemble of Indonesia's Gamelan tradition to the spirited sounds of Punjab's Bhangra beats - authenticated their experiences and the excitingly eclectic influences all dynamically co-exist within TWIRL. Vocals by the William Joseph International Academy for Performing Arts Children's Choir of Bangalore, India enliven the album.
Gannaway mentions that Chinese, Indonesian (Gamelan) & Indian influence are the most noticeable new AOMUSIC flavors since the Grow Wild album. Whilst in China, AOMUSIC were invited to submit theme music for the 2008 Beijing Olympics and were subsequently introduced to the region's traditional instruments and finest talent, such as the CRC Children's Choir. The result is the first track on TWIRL, "On Jai Ya," an exhilarating introduction to the energy of the album as a whole, punctuated by sweeping refrains and powerful vocal ensembles sung by local children, and accentuated by Stockley's signature voice that captures their effervescent spirit so well.
Approaching each song on TWIRL as if it were a journey over an ever-changing landscape offers a refreshing freedom of sound that AOMUSIC co-producer, Jay Oliver, steers toward new musical horizons. As Gannaway describes his work, "When I bring new compositions to Jay, they wind up places I never dreamed." Oliver's former production credits include Sheryl Crow, The Eagles, Celine Dion, Jimmy Buffet, Bonnie Raitt, Wynona Judd, Glenn Fry, Joe Walsh, Chick Corea & Dave Weckl. Asked about musical comparisons to this work, Oliver imagines "One might say it's a bit like Peter Gabriel, Afro Celt Sound System, Deep Forest, Adiemus, Ambient, Solas, Imogen Heap, Sting, Varttina, Karunesh - all rolled into one. Hopefully anyone who listens, regardless of where they are from, is inspired to feel a little less separate from the rest."
AOMUSIC's marketing team for the release of TWIRL includes Greg Steffen, National Music Marketing Services, Retail Marketing; Suzanne Doucet, Only New Age Music, Inc., Creative Consultant; Roger Lifeset, Peer Pressure Promotion, mainstream radio promotion; Kathleen Monahan, KDM Promotions, world/new age radio promotion; Beth Ann Hilton, The B Company, publicity; and Bette Timm, new age retail promotion. The album is available from Burnside Distribution Corporation, the AOMUSIC website, and at fine music retailers everywhere.
For further media information, images or interviews please contact us or visit our Sonicbids EPK.
Fans can interact with AOMUSIC at: http://www.aomusic.com, http://www.reverbnation.com/aomusicllc and http://www.myspace.com/aoaoaomusic.
Title: TWIRL
Genre: World/New Age
Released on AO Music: AOM0906
Length: 53:43
Track List:
On Jai Ya
Tayeh Kayoh
Drops & Sparks
Obayo
Yei Ha
Na Ha Ye
Kaya Kayeh
Zhaia
Shamaniya
Cahaya
###