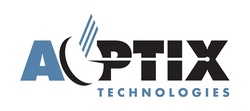 CAMPBELL, Calif. (PRWEB) September 8, 2008
Under the terms of Agreement, AOptix Technologies will oversee the design and preparation for the optical portion of the combined hybrid-optical/RF terminals. The contract will include local testing at their 10km Campbell, California range along with a mountain top to mountain top test at 150km. The objective of the long distance link test will be to evaluate the performance of a simulated, high-altitude, air-to-air, communications link.
"What's remarkable is the enormous amount of data capable of being sent through this ultra-high bandwidth optical link. At data rates of 10 Gbps, the optical link is capable of sending a full length standard definition DVD movie in less than 5 seconds; and all of this at under 200 milliwatts, less power than a cell phone. To bridge 150 kilometers with a secure 10 gigabit per second communications link is unprecedented," says Dean Senner, President and CEO of AOptix.
The AOptix terminals utilize a unique bi-directional, adaptive optics method of beam control to compensate for real-time atmospheric turbulence. Video, voice and data is transmitted through the air over an invisible, extremely low power, eye-safe, free-space optical laser link.
Lasercom can be used to provide very high capacity dense wave division multiplexed (DWDM) links without the need to reserve spectrum or otherwise coordinate with competing spectrum users.
AOptix will be building on previous successful contracts for AFRL in an effort to further validate and improve the wireless technology necessary for the increasing high bandwidth communications needs of its customers.
About the company
AOptix Technologies is a privately funded company founded in 2000. With core technology expertise in the application of advanced adaptive optics, they develop free space optical communications and iris biometrics based identification solutions for both government and commercial markets. For additional information, please see http://www.aoptix.com.