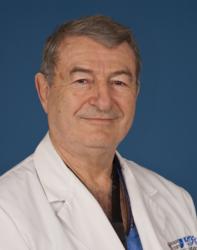 San Diego, CA (PRWEB) July 09, 2011
Lyle J. Micheli, MD, director of the Division of Sports Medicine at Children's Hospital Boston was presented with the 2011 Robert E. Leach Mr. Sports Medicine award during the American Orthopaedic Society for Sports Medicine's (AOSSM) Annual Meeting in San Diego, California on Saturday, July 9th. This prestigious award is given annually to honor those who have made a significant contribution to the world of sports medicine and includes a $5,000 donation to the winner's charity of choice. It is one of the top awards the Society presents each year. Dr. Micheli is the 38th recipient of this distinguished award.
He received his undergraduate degree from Harvard College in 1962 and his medical degree from Harvard Medical School in 1966. He performed his residency at Massachusetts General Hospital-Children's Hospital from 1968-1972 and then went on for his fellowship as a traveling fellow for Berg-Sloat in 1973 as a member of the Orthopaedic Research Society. He has been a member of AOSSM since 1979 and served on multiple committees.. In 2008 he received the American Academy of Pediatrics Thomas E. Schaeffer Award for lifetime contributions to the field of sports medicine.
Dr. Micheli served as president of the American College of Sports Medicine from 1989-1990. He is currently the Secretary General for the International Federation of Sports Medicine (FIMS). In November of 2005, Dr. Micheli was invited by the International Olympic Committee's Medical Commission to the IOC Headquarters in Lausanne, Switzerland to co-chair and assist in the writing of an IOC Consensus Statement on the Training of the Elite Child Athlete.
Dr. Micheli has been the Attending Physician for the Boston Ballet since 1977 and is Medical Consultant to the Boston Ballet School. In 1984, he was appointed to the Board of Directors of the United States Rugby Football Foundation. He also serves on the medical teams for the Boston Marathon and U.S. Figure Skating Association.
He is the author of more than 300 scientific articles and reviews related to sports injuries, particularly in children, scoliosis and other disorders of the spine, and medical problems of dancers. His present research activities are focused on the prevention of sports injuries in children, including assessment of risk factors and injury occurrence, as well as assessment of dysfunctions of the shoulder in children and young adults.
Dr. Micheli has edited and authored several major books and textbooks including the most recent four volume Encyclopedia of Sports Medicine. His other publications include The Adolescent Athlete: A Practical Approach, The Pediatric and Adolescent Knee, The Sports Medicine Bible for Young Athletes, The Sports Medicine Bible and numerous issues of Clinics in Sports Medicine.
.
The American Orthopaedic Society for Sports Medicine (AOSSM) is a world leader in sports medicine education, research, communication and fellowship, and includes national and international orthopaedic sports medicine leaders. The Society works closely with many other sports medicine specialists, including athletic trainers, physical therapists, family physicians, and others to improve the identification, prevention, treatment, and rehabilitation of sports injuries. AOSSM is also a founding partner of the STOP Sports Injuries campaign to prevent overuse and traumatic injuries in kids. For more information on AOSSM or the STOP Sports Injuries campaign, visit http://www.sportsmed.org or http://www.stopsportsinjuries.org
###